Location
Citizens Memorial Hospital
Health care
Citizens Memorial Hospital is a 86-bed acute care hospital that offers an extensive list of patient services.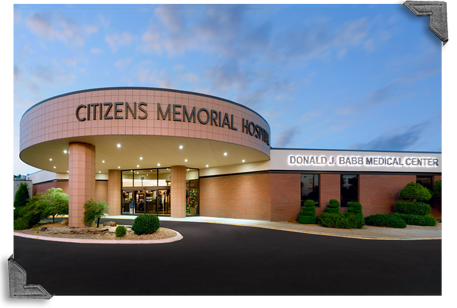 SERVICES
DIRECTIONS
CONTACT
COMMENTS
Services Provided
Providers
Garrett Alderfer, MD
Marcelo Assmann, MD
Sean Bandzar, MD
John Best, MD
Keith Butvilas, DO
John Gamble, MD
Melissa Gibbs, PA-C
Jordan Gipson, MD
Brian Guhl, MD
Brandi Hume, PA-C
Andrew Hummel, MD
Ryan Hunsel, MD
Jennifer Joy, FNP-BC
Ryan Kedzie, DO
Sean Larimore, DO
Yijia Mu, MD
Benjamin Nelson, DO
Andrew Nicholes, DO
Nathaniel Pearl, DO
Chad Potter, MD
Haris Riaz, MD
Jamie Schoolcraft, PA-C
Amit Shah, MD
Jeffrey Smieshek, DO
Esther Trammell, NP-C
Nathan Walters, MD
From My Location:
Address:
1500 North Oakland Avenue
Bolivar, MO 65613
Hours
Call for more information
Keep In Touch
Patient Comments
All patient satisfaction ratings are submitted by actual patients and are verified by an independent patient satisfaction company, National Research Corporation. National Research Corporation provides the technology to display ratings and comments on our provider profiles and practice pages.
Hospital 417-326-6000
Infocenter 417-328-6010, or 1-888-328-6010
1500 North Oakland, Bolivar, Missouri 65613
© 2023 Citizens Memorial Healthcare