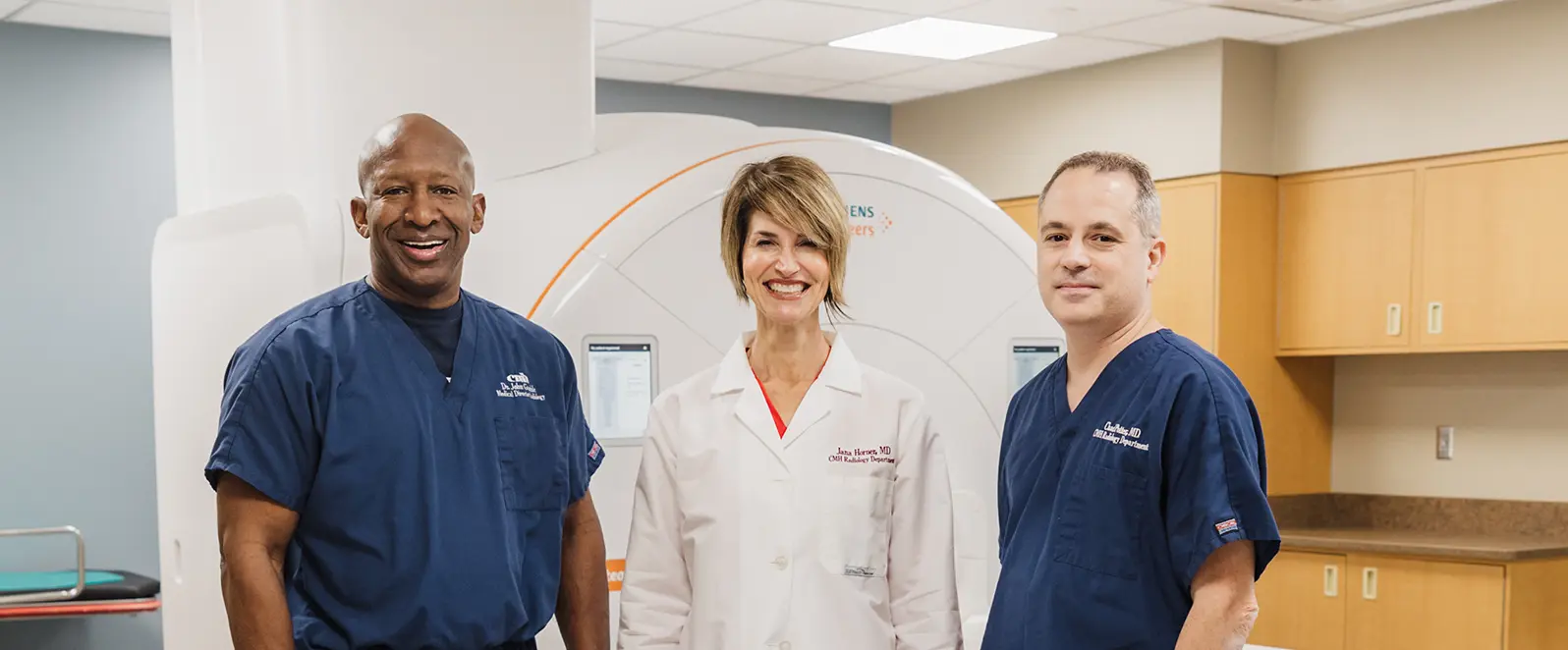 Imaging and Radiology
Citizens Memorial Hospital's radiology and imaging services offer state-of-the-art technology, equipment and techniques. These tools provide accurate, comprehensive and timely diagnostic information.
Our caring and experienced professionals will assist you throughout your procedure. They work closely with our board-certified radiologists to give you timely results and personal consultations. Patients can typically expect results from any imaging procedure within 3-5 days. CMH also offers interventional radiology. These minimally invasive procedures allow our physicians to treat certain conditions and diseases without surgery.
Imaging and Radiology Services
Radiology services are available at Citizens Memorial Hospital and the CMH Imaging Center in the Douglas Medical Center. Some of the imaging and radiology services we provide include:
Arthrography
Barium swallow
Bone densitometry
Breast biopsy – X-ray guided
Breast imaging – mammography
Cardiac CT for calcium scoring
CT or CAT scan
Magnetic Resonance Imaging
Nuclear medicine
PET/CT
Radiography (X-ray)
Ultrasound
Digital Images
With leading-edge technology, CMH uses a Web-based Picture Archival Communication System (PACS) for the storage of images. The system allows images to be distributed throughout the facility within seconds.
Virtual Radiologist
Citizens Memorial Hospital partners with Virtual Radiologic Professionals (vRad) to interpret and process patient images when CMH radiologists are unavailable. vRad is a leading national teleradiology firm.
Physicians contracted through vRad are board-certified with a majority fellowship trained. This team of physicians participates in a quality assurance peer review process and is rated at a 99.7% accuracy score.
Why vRad?
Providing exceptional patient care is a top priority for our CMH medical providers. Timely radiology and imaging services are critical to diagnosing and treating patients 24/7/365. With vRad, our CMH radiologists have extra support and coverage to provide efficient and accurate radiology services around the clock.
Billing Questions
Patients may receive a bill from vRad for images such as CT scans, MRIs or ultrasounds. If you have questions about your bill or need to pay a bill, contact vRad's billing service by calling 1-844-706-9577.
Locations