Patient Centered Medical Home
A Patient-Centered Medical Home is a model of care designed to provide the patient with a Physician led Care Team that emphasizes coordination, communication and evidence based care resulting in an improved patient experience and outcome.
More Information
Services Offered
Locations
More Information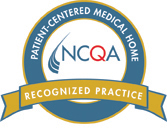 Medical homes can lead to higher quality and lower costs, and can improve patients' and providers' experience of care.
NCQA Patient-Centered Medical Home (PCMH) Recognition is the most widely-used way to transform primary care practices into medical homes.
NCQA is a private, non-profit organization dedicated to improving health care quality.
Services Offered
Evidence based care provided by your personal Physician and Care Team
Same day appointment scheduling for urgent and routine care
Timely response to your medical questions by phone or the Patient Portal
Referrals to Specialty Care Physicians
Care Coordination after hospitalization/care transition
Community resource referrals
Wellness visit reminders for Preventive Care and Screenings
Behavioral Health Consultations to help you identify and address barriers preventing you from reaching your health improvement goals
Chronic Care Management with Personal Care Manager

Long term disease management, education and monitoring
Self management tracking and counseling
Self directed goal setting, attainment strategies and support
Medication adherence, monitoring and education