FOR IMMEDIATE RELEASE
SBJ honors five CMH employees as Health Care Champions
Springfield Business Journal honored five Citizens Memorial Hospital employees as Health Care Champions and selected CMH for the Corporate Wellness Program of the Year. SBJ presented the awards at the SBJ Health Care Champions banquet Nov. 17.
FOR THE MEDIA
Contacts:
Tamera Heitz-Peek
417-328-7245
theitz@citizensmemorial.com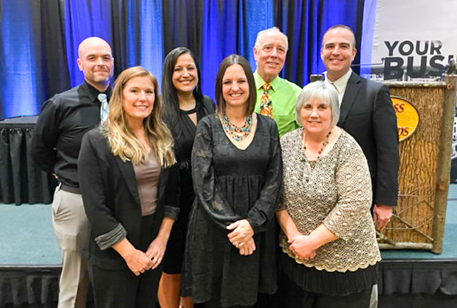 Curtis P. Schreiber, M.D., is one of two recipients of the Top Doctor Award. He is a board certified neurologist with CMH Neurology & Headache Center and medical director of Missouri Memory Center.
Matt Havens, PA-C, and Paulette Ivey were honored in the "Technician" category. Havens is a certified physician assistant at Butterfield Park Medical Center. Ivey is the lab assistant coordinator at the hospital.
Dawnielle Robinson, LPC, and Rachael Swopes, Ph.D., were honored in the "Therapist" category. Robinson is a mental health therapist with CMH Addiction Recovery at Butterfield Park Medical Center. Swopes is a clinical psychologist with CMH Pediatric Clinic.
Alyson Ankrom is CMH's wellness coordinator. The CMH Employee Wellness Program provides wellness resources and incentives for employees to enhance their health and well-being. Employees also earn a discount on health insurance premiums by meeting quarterly wellness requirements.
"What an honor for our medical providers to be named as leading health care champions and recognized for our employee wellness program," said Michael Calhoun, CEO/executive director of CMH and Citizens Memorial Health Care Foundation. "Congratulations to all of the award recipients!"
An independent panel of judges selected award recipients in the categories of top doctor, administrator, nurse, technician and therapist, and company awards for corporate wellness program and provider of the year. SBJ presented 14 Health Care Champions and two company awards during the banquet.
Photo (left to right): Matt Havens, PA-C; Alyson Ankrom; Dawnielle Robinson, LPC; Rachael Swopes, Ph.D.; Curtis P. Schreiber, M.D.; Paulette Ivey and Michael Calhoun.
November 22, 2022
Hospital 417-326-6000
Infocenter 417-328-6010, or 1-888-328-6010
1500 North Oakland, Bolivar, Missouri 65613
© 2023 Citizens Memorial Healthcare