CMH long-term care facilities receive national quality awards
Citizens Memorial Health Care Foundation announces that three of its long-term care facilities and one residential care center received 2020 and 2021 Bronze Commitment to Quality Awards from American Healthcare Association and National Center for Assisted Living (AHCA/NCAL).
Awards were presented to: Ash Grove Healthcare Facility (2021), Butterfield Residential Care Center (2020), Citizens Memorial Healthcare Facility (2020), and Parkview Health Care Facility (2020).
The awards are part of the AHCA/NCAL's National Quality Award Program, a comprehensive and organizational assessment and recognition program for long-term care providers demonstrating a dedication to quality and service within the health care profession. The awards were presented Oct.12, at the 72nd annual AHCA/NCAL national convention and expo in Washington, D.C.
Mark Parkinson, president/executive director of AHCA commended all of the National Quality Award recipients for their commitment to quality during the most challenging times in the profession's history dealing with the COVID-19 pandemic.
"The challenges and changes that health care has endured is monumental. I am so proud of how our integrated system has worked together to provide outstanding care and service during this unprecedented time," says Beverly Derrickson, CMH Foundation chief operating officer. "The leadership teams and employees at the long-term care facilities deserve this recognition. They truly are health care heroes and will be known as the greatest generation of care givers as history is written."
Modeled after the core values and criteria of the Malcolm Baldrige Performance Excellence Program, the AHCA/NCAL National Quality Award Program is a rigorous three-level process that is reviewed and judged by trained experts in Baldrige Performance Excellence standards. Providers are nationally recognized for achieving each award level and progressively joining the ranks of the best in long-term care.
"To rise to this level during unprecedented times is truly a blessing for the communities that we serve. We appreciate the communities and facilities working together throughout the pandemic to assure we are providing the safest care possible for all involved. We are proud of all of our staff, but especially our long-term care teams are to be commended for being recognized on a national stage," says Gary Fulbright, CEO/executive director of CMH/CMH Foundation.
AHCA is the nation's largest association of licensed, long-term health care, residential care and assisted living facilities with headquarters in Washington, D.C. representing nearly 14,000 facility members. The Missouri Health Care Association is a member of AHCA with headquarters in Jefferson City and includes 320 facility members.
MHCA represents more than 65% of Missouri's licensed skilled nursing care facilities along with many resident care and assisted living facilities that are dedicated to improving the quality of life for Missouri residents in long-term care.
Chris McBratney, Lake Stockton Healthcare Facility administrator and administrative director of CMH long-term care west, serves as secretary of MHCA. Tim Francka, Parkview Health Care Facility administrator and administrative director of CMH long-term care east, was reelected in August as the AHCA Council of States board delegate and voting representative for Missouri, and will serve another three-year term.
CMH Foundation operates six long-term care facilities and one residential care center in Cedar, Dallas, Greene and Polk counties. For more information about senior care at CMH, call 417-328-6731.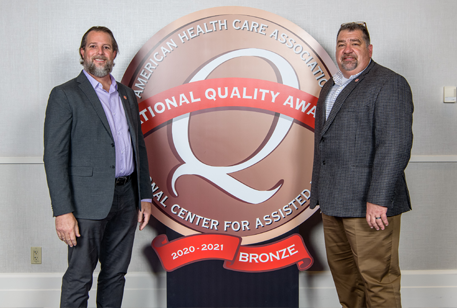 Chris McBratney and Tim Francka