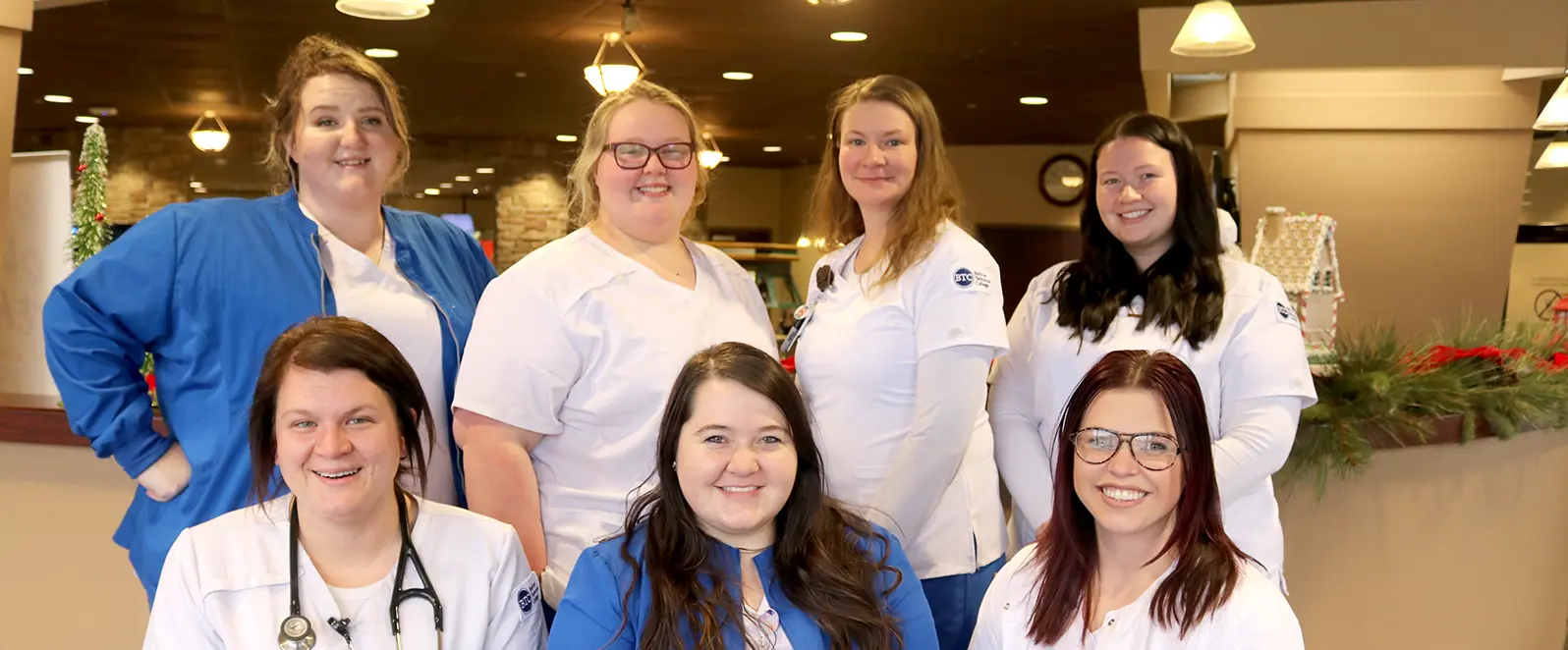 Nurse Apprenticeship and Residency
CMH partners with student nurses and recent nursing graduates to help them in their journey to becoming exceptional nurses. Nurse apprenticeships give nursing students an enriched clinical experience with our "earn as you learn" training model. Nurse residency helps recent graduates transition to being confident bedside nurses.
Nurse Apprenticeship
Nursing students enrolled in an accredited program are eligible for a nurse apprenticeship during the final two semesters of their program. This earn-as-you-learn program creates an exceptional clinical experience for pre-licensure professional nursing and practical nursing students. Selected nursing students are employed by CMH on a full-time, part-time or part-time-as-needed basis. They work and are paid as a student nurse while enrolled in the nursing education program. The student nurse also receives academic credit toward meeting clinical requirements.
How the Program Works
Students enrolled in their final two semesters are eligible to apply. Accepted students enter into an "intermediate apprenticeship" that includes a contract agreement to work for CMH in their licensed role for one year after program completion. Students complete their clinical hours as scheduled by their program and receive a stipend for those hours.
During their final semester, nurse apprentices can shadow a nurse in any clinical setting. This helps identify the area where they want to work after graduation.
Nurse Apprenticeship Highlights
Receive a stipend while completing clinical hours.
Eligible to work shifts in the hospital, long-term care, clinic or home care/hospice as a nurse apprentice.
Eligible for benefits based on full-time equivalent status.
Receive an hourly base rate for hours worked at CMH.
For More Information
Call 417-328-7775 for more information about the nurse apprenticeship program.
Nurse Residency
CMH's one-year paid nurse residency program helps new graduate nurses transition from students to confident bedside nurses. Our program will promote a lifelong love of professional and personal growth with its supportive and inclusive atmosphere. Nurses with less than one year of experience are eligible to apply.
A community of experienced nurses surrounds the residents. Inside this community, opportunity abounds to form enduring relationships with peers, unit educators and unit managers. Our goal at CMH is to ensure that the new graduate nurse never feels alone.
Each resident is paired with a preceptor. The resident will work the preceptor's schedule during orientation in the department. The preceptor guides the resident in the transition process, including critical-thinking skills and organizational policies and procedures.
How to Apply
To apply for the CMH residency program, go to the CMH Careers website. Select a nursing position and apply. All new graduate nurses (with less than one year of experience) selected for employment will be placed into the residency cohort.
Residency Phases
The residency begins with biweekly classes starting in June and transitions to monthly seminars in November. Nurse residents will graduate from the program the following June.
During Phase 1 (first 12 weeks), you will:
Receive hands-on clinical training under the guidance of a preceptor.
Attend classroom sessions where you will learn about organizational policies and procedures.
Meet ancillary staff members.
Develop critical-thinking skills through HealthStream's Jane® interactive courses.
Phase 2 includes eight seminars focusing on professional development and culminating in an evidence-based practice project.
Students complete online learning assessments to see where they benchmark against other nurses nationally on knowledge and critical-thinking skills. The assessments are used to build resident-specific curriculums to meet the development needs of the transitioning nurse.
Residents receive:
Biweekly group classes led by unit educators and other ancillary staff members during the first 12 weeks of the program.
Online learning opportunities that foster professional development and a lifelong passion for learning.
Scenarios developed and managed by clinical experts through HealthStream.
Preceptor and mentor support.
A personal relationship with your unit educator and director.
Interaction with organizational leaders.
Monthly seminars to support professional development.
Opportunity for competitive pay working in the field of your choice: Behavioral Health, Birth Place, Emergency Room, Intensive Care, Medical/Surgical or Operating Room/Outpatient Surgery.
What You Can Expect to Gain
Confidence.
Advanced training in your specialty.
Potential for BLS, ACLS, PALS, PEARS, TNCC, NIHSS, NRP and STABLE certifications.
Access to certification preparation through HealthStream.
Friendships.
Opportunities to advance in a comprehensive rural health care system.
For More Information
For more information about the CMH Nurse Residency Program, contact:
Christie Kirby, MBA-HM, BSN, RN, CCRN-K
Nurse Residency Program Director
christie.kirby@citizensmemorial.com
417-328-6512
Life at CMH
Our Organization
Citizens Memorial Hospital is an award-winning 86-bed acute care hospital serving an eight-county area in southwest Missouri.
Level III Trauma Center
Level II STEMI Center
Level III Stroke Center
34 physician offices, including 12 certified Rural Health Clinics
Senior living facilities: Independent living, residential living and long-term care
Home care services
Retail pharmacies
Learn More About CMH
Employee Benefits
A robust benefits package from CMH enhances your health, career, life and future.
Zero-premium health insurance option for employees
Employee wellness program
Retirement plan with employer matching
Profit-sharing plan
Life insurance
Professional development opportunities
And more
Learn More About Benefits at CMH
Life in Southwest Missouri
There's always something to do in the Ozarks of southwest Missouri. From lakes to golf and shopping to tennis, we've got it all.
The communities we serve embody small-town charm where you easily can become an active part of your local community.
Larger cities such as Springfield, Branson and Kansas City are conveniently located nearby.
Explore Life in Southwest Missouri