Dr. Julie Henson joins Bolivar Family Care Center
Citizens Memorial Hospital and
Bolivar Family Care Center
announce the appointment of Julie Henson, D.O., to the CMH medical staff.
Dr. Henson is a physician specializing in family medicine at Bolivar Family Care Center. She joins William S. Donnell, M.D., Ronald A. Evans, M.D., Louis B. Harris, M.D., Mary L. Hogan, M.D., Laura C. Vance, M.D., Ronald L. Vance, M.D., Olivia Cumley, DNP, FNP-C, Mandy D'Agostino, NP-C, Scott Dennis, PA-C, Joseph Follis, FNP-BC, Leigh O'Connor, PA-C, Janet Ofori-Yeboah, NP-C, Danielle Seiner, NP-C and Ronda Stewart, DNP, FNP-BC.
Dr. Henson attended medical school at A.T. Still University College of Osteopathic Medicine in Kirksville and completed the family medicine residency program at Madigan Army Medical Center in Tacoma. Since 2019, Dr. Henson has been a primary care physician and medical director of the U.S. Army Health Clinic in Kaiserslautern, Germany.
She is a member of the American Academy of Family Physicians and the Uniformed Services Academy of Family Physicians. Dr. Henson is board certified in family medicine by the American Board of Family Medicine.
Dr. Henson is accepting new patients starting Aug. 1. For more information or to schedule an appointment with Dr. Henson, call
417-326-6021
. Bolivar Family Care Center is located at 1240 N. Butterfield Road, Bolivar.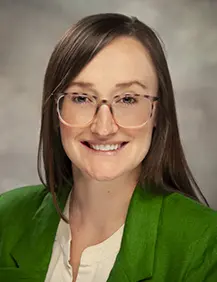 Julie Henson, D.O.
Related Stories