Butterfield, CMHCF earn Silver Quality awards
Butterfield Residential Care Center and Citizens Memorial Healthcare Facility in Bolivar have earned Silver – Achievement in Quality awards. The American Health Care Association/National Center for Assisted Living gives the awards through its National Quality Award Program for demonstrating high-level performance and quality outcomes to improve the lives of residents and staff in long-term care.
All long-term care and residential care facilities owned and operated by the Citizens Memorial Health Care Foundation have achieved the Bronze Award level for quality. BRCC and CMHCF are the first CMH Foundation facilities to attain Silver status and the only two Missouri facilities to receive Silver awards in 2023. Nationwide, only 72 facilities out of more than 15,000 facilities achieved the Silver Award level in 2023.
"These awards confirm what our residents already know," said Tim Francka, CMH Foundation administrative director for long-term care east. "Our staff works incredibly hard to put residents first by providing high-quality, compassionate care in residential and long-term care settings."
The awards program has three progressive levels: Bronze, Silver and Gold. At the Silver level, recipients first met the criteria for the Bronze award. The next level is to evaluate and improve their processes. Facilities create a systematic approach that leads to positive outcomes and success. Trained examiners review each application to determine if the center has met the criteria's demands.
The program's goal is to further improve the lives of residents and staff in long-term care. The award is the second of three possible distinctions. AHCA/NCAL recognizes entities that meet progressively rigorous performance standards. The facilities will receive the awards on Oct. 3 at the AHCA/NCAL national convention and expo in Denver, Colorado.
CMH Foundation owns six long-term care facilities and one residential care center in Ash Grove, Bolivar, Buffalo, El Dorado Springs and Stockton. Learn more about senior living options at CMH online or call 417-328-6731.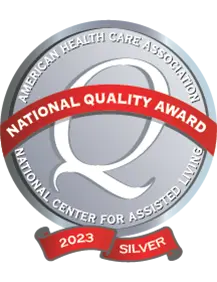 Silver Quality Award
Related Stories