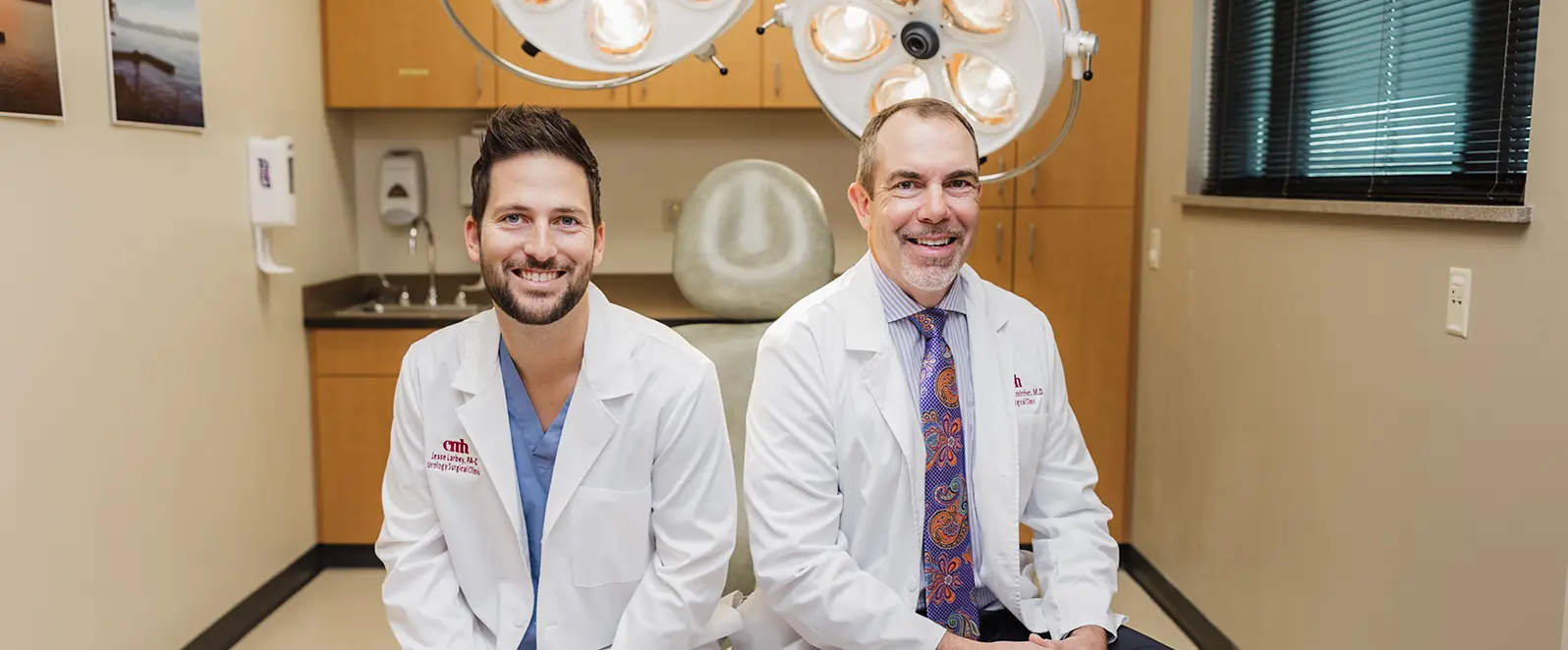 Urology
CMH Urology Surgical Clinic staff diagnose and treat patients with a wide range of urologic conditions and male reproductive issues.
Dr. Walterskirchen is one of the few surgical urologists in the region to offer specialized urology procedures. InterStim™ and Botox® bladder therapy help with female incontinence and voiding issues. Male treatments include Xiaflex® injections for Peyronie's disease, prostate cryoablation for prostate cancer and UroLift® for benign prostatic hyperplasia (BPH). Dr. Walterskirchen performs complex robotic procedures for kidney, prostate and bladder diseases.
Conditions We Treat
Bladder cancer
Enlarged prostate
Erectile dysfunction (ED)
Female stress incontinence
Hematuria (blood in urine)
Kidney cancer
Kidney stones
Overactive bladder
Prostate cancer
Peyronie's Disease
Testicular cancer
Ureter cancer
Urinary incontinence
Urinary tract infection
Procedures We Perform
Artificial urinary sphincter placement
Botox® bladder therapy
Coaptite® injection
Cystoscopy
Hydrocele/spermatoceles excision
InterStim™
Lynx retropubic sling
Penile prosthesis
Prostate cryoablation
Robotic-assisted partial/radical nephrectomy
Robotic-assisted nephroureterectomy
Robotic-assisted prostatectomy
Robotic-assisted pyeloplasty
SpaceOAR ™ Hydrogel and Fiducial Marker Placement
Stent placement
Transrectal ultrasound and prostate biopsy
Transurethral resection of the prostate (TURP)
Transurethral resection of bladder tumor (TURBT)
Ureteroscopy
UroLift® for BPH
Vasectomy
Xiaflex® injection
Urology Care for Men
We know you'd rather live with it than talk about urinary issues. If it's starting to interfere with your quality of life, it might be time to see a specialist.
Benign Prostatic Hyperplasia
Do you have frustrating urinary problems like a frequent and urgent need to urinate, especially at night? Trouble starting a urine stream or feel like you have to urinate even after you just did?
Benign prostatic hyperplasia (BPH) is a common condition in which an enlarged prostate gland causes problems with the urinary tract. In fact, about 50% of men have symptoms of BPH by age 60, and about 90% have symptoms by age 85.
How severe are your symptoms? Take the BPH symptom questionnaire and find out. Note: Your score is not meant to provide medical advice or replace your doctor's expert opinion and care.
Relief is possible for BPH and other male urological conditions. Learn more about available treatment options by calling 417-326-2550 and scheduling an appointment at CMH Urology Surgical Clinic in Bolivar. The providers are experts in treating patients with urological issues and are accepting new patients.
Urology Care for Women
Did you know there are effective treatment options for overactive bladder and female urinary incontinence?
Are you afraid to cough, sneeze or exercise because of urine leakage? Do you use the bathroom a lot, day and night, because you have an urgent need to pee?
You are not alone. In fact, over 25 million adult Americans have urinary incontinence and women are twice as likely to have it as men.
4 Types of Incontinence
According to the American Urological Association, women can experience four types of urinary incontinence:
Stress urinary incontinence. This can happen when physical pressure is put on your bladder, such as when you sneeze or exercise.
Urgency urinary incontinence. Also called overactive bladder, you feel a strong need to urinate and leak urine on the way to the bathroom.
Mixed incontinence. This is when you have both types of incontinence.
Overflow incontinence.This can happen when your body makes more urine than the bladder can hold. The bladder is full and your bladder muscle may not "squeeze" as it should. Another symptom is constant dribbling.
Incontinence Treatments
You don't have to live with leaks. Effective treatments are available.
Medications. Several medications, such as oxybutynin and myrbetriq, are available to treat stress and urgency incontinence.
Surgery. A simple surgical procedure, including Coaptite® and Botox® injections, injects medication into the bladder neck or bladder muscle. Synthetic mesh slings can support your urethra (the tube you urinate through). In the right patient, they can be 85% successful.
Implants. InterStim™ therapy uses an implantable device into your tailbone as an effective treatment for urinary incontinence and overactive bladder. The device is like a pacemaker for your bladder.
Providers
CMH Urology Surgical Clinic at Douglas Medical Center
Locations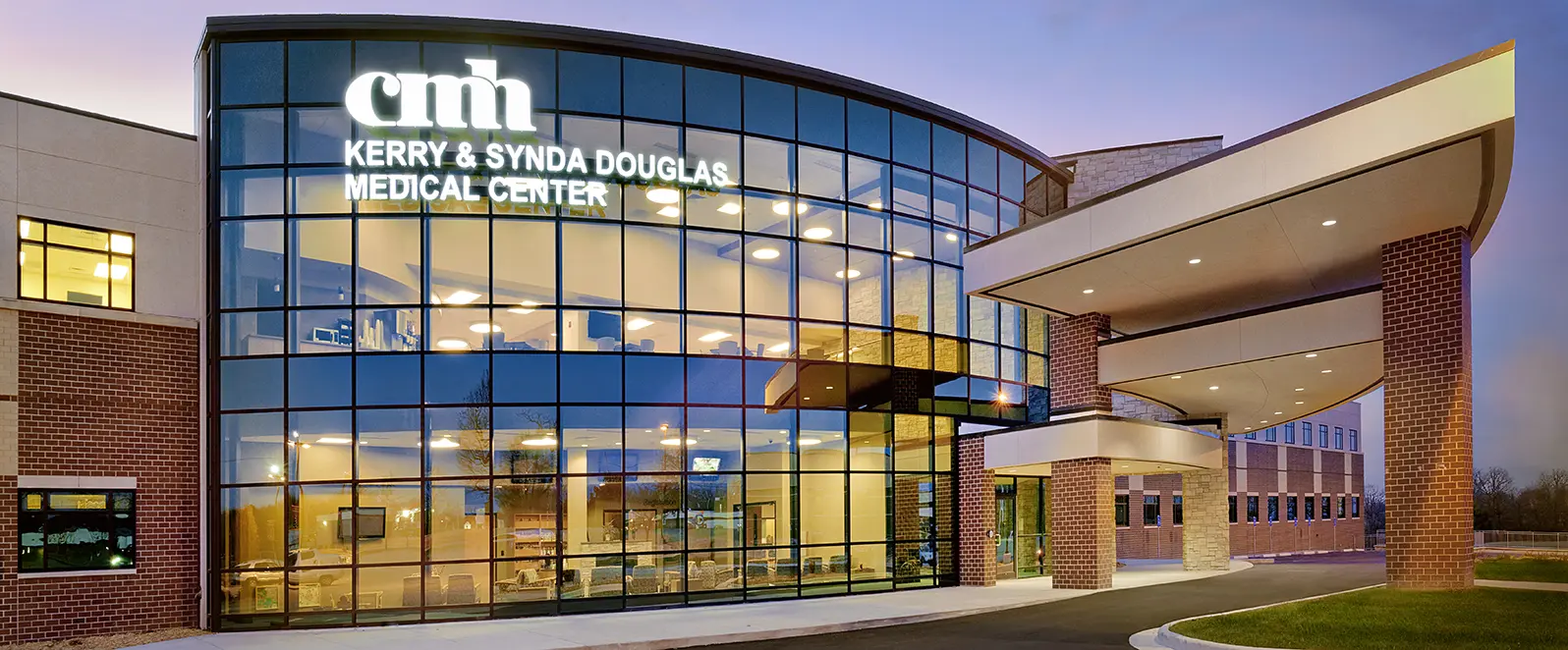 Patient Resources
CMH Patient Portal — Secure online access to your health information from your computer or smartphone.
Patient Rights — Your rights and responsibilities as a patient and consumer of our services.
Online Bill Pay — Secure online bill pay service gives you a safe and convenient option for paying your bill.
Patient Comments
All patient satisfaction ratings are submitted by actual patients and verified by an independent patient satisfaction company, National Research Corporation. National Research Corporation provides the technology to display ratings and comments on our provider profiles and practice pages.