CMH receives Missouri's first Recovery Friendly Workplace designation
Citizens Memorial Hospital is the first business in Missouri to receive the Recovery Friendly Workplace designation from Recovery Friendly Missouri.
Ann McCauley, RFW project director with the University of Missouri Extension, made an official presentation during CMH's Mental Health Awareness Walk on Sept. 29.
"The Recovery Friendly Workplace designation process was launched in September and made available to businesses throughout the state," McCauley said. "Citizens Memorial was the first business to complete the entire process."
CMH staff completed several steps to earn the designation. These included training, planning and delivering a declaration to staff stating the organization's support for employees in recovery.
"The greatest thing about Citizens Memorial is the people," McCauley said. "They walk the walk and talk the talk, and their support for those in recovery is phenomenal. Citizens Memorial changes lives for the better, and in doing so, positively impacts its entire community."
CMH Nutritional Services partners with the CMH Addiction Recovery Program to provide employment opportunities for patients. Scott Kirchhoff, administrative director of hospitality, and Sarah Swearingin, director of nutritional services, have been instrumental in developing CMH Nutritional Services as an RFW.
"We are proud of Scott and Sarah for their passion and commitment to being a Recovery Friendly Workplace," said Michael Calhoun, CEO/executive director of CMH and the Citizens Memorial Health Care Foundation. "Their collaboration with our Addiction Recovery Program helps patients in recovery create a better life for themselves and their families, which directly relates to our mission of caring for every generation. CMH is honored to be the first recipient of this designation in the state."
The Recovery Friendly Workplace designation comes at no cost to businesses. The University of Missouri Extension is funding the initiative through a Rural Opioids Technical Assistance grant to address substance use disorder in rural communities throughout Missouri.
"It is our hope that businesses that have been reluctant to give people in recovery a second chance will hear the stories from Citizens Memorial staff and leaders and decide to become recovery friendly, too," McCauley said. "We are excited CMH is willing to mentor other businesses that need support hiring people in recovery."
"There's a lot of stigma and misunderstanding about this population," said Christina Bravata, director of grants management and CMH Addiction Recovery program manager. "A lot of employers don't know how to talk to someone who is struggling. People get nervous and afraid to talk about it, but that is a skill they can learn."
Learn more about Recovery Friendly Missouri at recoveryfriendlymo.com. The site also includes a video featuring Bravata, Kirchhoff and Swearingin.
For more information about employment opportunities at CMH, go to careers.citizensmemorial.com.
Photo (left to right): Christina Bravata, CMH director of grants management and CMH Addiction Recovery manager; Ann McCauley, MU Extension project director of Recovery Friendly Workplace; Sawiyyah Chanay, MU Extension rural opioids technical assistance grant principal investigator and community health engagement and outreach education director; Sarah Swearingin, director of nutritional services; and Dr. Kurt Bravata, medical director of CMH Addiction Recovery.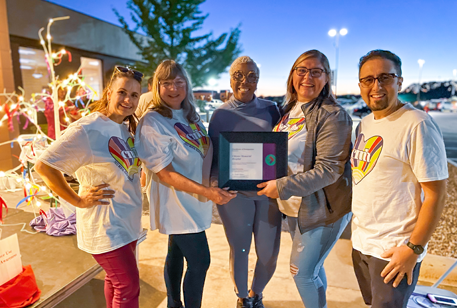 CMH staff receiving the Missouri Recovery Friendly Workplace award