FOR THE MEDIA
Contacts:
Tamera Heitz-Peek
417-328-7245
theitz@citizensmemorial.com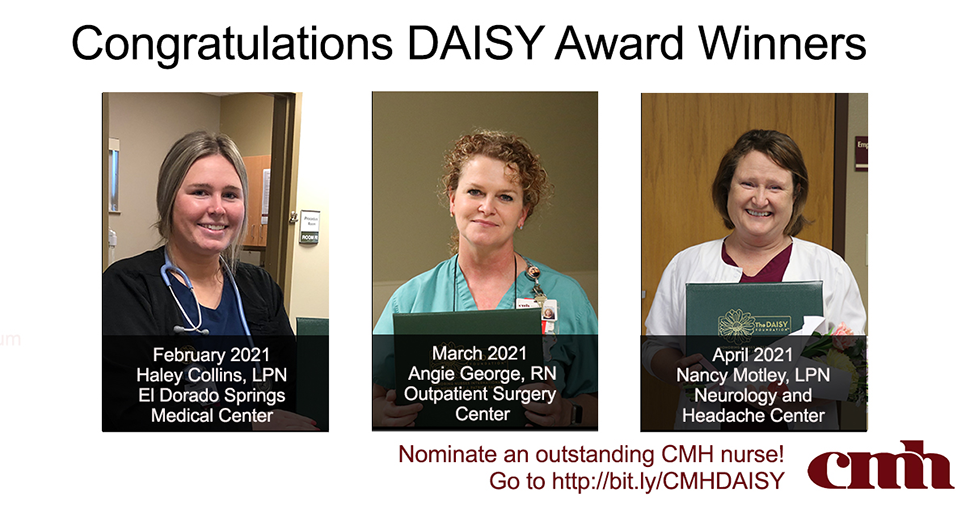 Haley Collins, LPN, February 2021 Winner
Collins earned her licensed practical nursing (LPN) degree in 2018 from Nevada Regional Technical Center and soon after starting caring for residents at Citizens Memorial Health Care Foundation's Community Springs Healthcare Facility in El Dorado. The following year she began working at El Dorado Springs Medical Center, where she is Dr. Bethany Dhondt's assigned nurse.
Collins was nominated for the award by her manager, Heather Allen, who wanted to recognize Collins for the way she helped a patient go through the paperwork and qualification process to have medical coverage for herself and her unborn baby.
"My favorite part of my job is educating patients and being a patient advocate," said Collins. She enjoys caring for the variety of ages they see in the clinic.
Collins appreciates her coworkers and the work they do every day. "I love all of my coworkers. El Dorado Springs Medical Center is like a big family," said Collins.
Angie George, RN, March 2021 Winner
George earned a bachelor's degree in psychology from Iowa State University in Ames, Iowa, and then earned her nursing degree from Iowa Central Community College in Fort Dodge, Iowa. She has 27 years of nursing experience and has cared for patients in Louisiana and Kansas as well as working at a hospital in Springfield on a medical/surgical unit and in a neurology and spine clinic.
George has worked at CMH for six years, first in home health and since 2016 in the outpatient surgical center. She was nominated for the DAISY Award by a patient who was preparing for an extensive surgery and was nervous about the procedure. George connected the patient to a coworker who underwent the same surgery and could provide a firsthand account of the recovery experience.
The patient wrote in the nomination: "If Angie had kept quiet about [her coworker], then my knowledge about recovery would have been lost. Thank you Angie for speaking out."
George is appreciative of her coworkers and their support of one another. "We have a great team in our department like family—we back each other up and support each other the best we can," said George.
Nancy Motley, LPN, April 2021 Winner
Motley started her nursing career as a nurse's aide at Sac Osage Hospital in Osceola. After graduating with her LPN degree from Ozarks Technical Community College in Springfield, she began working for CMH where she has cared for patients for the last 35 years. Motley has worked in the medical/surgical unit and in several clinics including surgical services, orthopedics and now in the CMH Neurology and Headache Center and Missouri Memory Center.
Motley received DAISY Award nominations from two people for her work in discovering a heart condition that could have been potentially fatal for a neurology patient. While completing her nursing intake, Motley listened to the patient's heart and noted that it sounded irregular. She immediately brought this to the doctor's attention and he sent the patient to the hospital for cardiac testing. The tests revealed that the patient had a serious heart issue that needed evaluation by a cardiologist immediately.
"This type of attention to detail and advocacy for her patients is what makes Nancy not only an amazing nurse, but an incredible asset to our clinic and organization," said Mila Chernioglo, manager of CMH Neurology and Headache Center and Missouri Memory Center.
Motley said that the patient intake work is very important and is what makes the neurology clinic so different. "We don't focus on just one issue, we focus on the patient as a whole," Motley said.
About the DAISY Award
DAISY is an acronym for Diseases Attacking the Immune System. The DAISY Award was established by the DAISY Foundation in memory of J. Patrick Barnes who died at 33 of Idiopathic Thrombocytopenia Purpura (ITP), an auto-immune disease.
The Barnes Family was awestruck by the clinical skills, caring and compassion of the nurses who cared for Barnes, so they created this international award to say thank you to nurses everywhere.
CMH implemented the DAISY Award program in January 2019 to recognize their own extraordinary nurses. Each month a CMH or Citizens Memorial Health Care Foundation nurse is presented with this recognition.
If you or someone you know would like to submit a CMH DAISY Award nomination, go to: http://bit.ly/2vwPyGw. For more information about the DAISY Award and Foundation, visit www.daisyfoundation.org
Photos: Haley Collins, LPN, Angie George, RN and Nancy Motely, LPN.
August 26, 2021
Hospital 417-326-6000
Infocenter 417-328-6010, or 1-888-328-6010
1500 North Oakland, Bolivar, Missouri 65613
© 2021 Citizens Memorial Healthcare