FOR IMMEDIATE RELEASE
CMH now offering Mako robotic-arm assisted hip surgery
Citizens Memorial Hospital is the first hospital in southwest Missouri to offer Stryker's robotic-arm assisted technology for use with hip surgery.
FOR THE MEDIA
Contacts:
Tamera Heitz-Peek
417-328-7245
theitz@citizensmemorial.com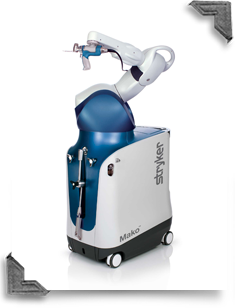 The hospital introduced Mako total knee earlier this year and has recently added Mako total hip replacement procedures. Board certified orthopedic surgeons Jonathan Gray, D.O., and Troy Morrison, D.O., with CMH Orthopedic & Spine Center in Bolivar are specially trained in the robotic technology.
This latest advancement in joint replacement surgery transforms the way total hip and knee replacements are performed through innovation, precision and increased accuracy. The highly advanced robotic technology enables patients to recover faster and more effectively.
"The Mako Total Hip application is a treatment option for adults who suffer from degenerative joint disease of the hip. Through CT-based 3D modeling of bone anatomy, we can use the Mako System to create a personalized surgical plan and identify the implant size, orientation and alignment based on each patient's unique anatomy," says Dr. Morrison. "The Mako System also enables surgeons to virtually modify the surgical plan intra-operatively and assists the surgeon in executing bone resections. In cadaveric studies, Mako total hip replacement acetabular cup placement has been shown to be four times more accurate and reproducible than manual total hip replacement procedures."
The Mako total knee and total hip applications are treatment options designed to relieve the pain caused by joint degeneration due to osteoarthritis.
"Mako is changing the way joint replacement surgeries are performed by providing each patient with a personalized surgical experience," says Dr. Gray. "The Mako System allows us to create each patient's surgical plan pre-operatively before entering the operating room. During surgery, the surgeon can validate that plan and make any necessary adjustments while guiding the robotic-arm to execute that plan. It's exciting to be able to offer this transformative technology."  
The demand for joint replacements is expected to rise in the next decade. Total knee replacements in the United States are estimated to increase by 673% by 2030, while primary total hip replacements are estimated to increase by 174%. Yet studies have shown that approximately 30% of patients are dissatisfied after conventional surgery.
"We are proud to be the first hospital to offer this highly advanced robotic technology in our area," says Gary Fulbright, CEO/executive director of CMH and CMH Foundation. "This addition to our orthopedic service line further demonstrates our commitment to provide the community with outstanding health care."
Other orthopedic specialists at CMH Orthopedic & Spine Center include board certified surgeons David Rogers, M.D., and Ron Smith, M.D., and physician assistants, Stephanie Aug, PA-C, Retha Dawes, PA-C, and Jake Condren, PA-C.
From diagnostic testing and evaluation to surgery and rehabilitation, CMH Orthopedic & Spine Center offers personalized assessments, treatment plans and complete orthopedic care that includes minimally invasive spine surgery, hip and knee replacement, carpal tunnel and rotator cuff repair. Orthopedic care is also available in Appleton City, El Dorado Springs and Osceola.
More information regarding Mako Total Knee and Total Hip can be found at citizensmemorial.com or facebook.com/CMHOrthoandSpineCenter. CMH Orthopedic & Spine Center accepts most major insurance plans including Medicare and Medicaid. To schedule an appointment call CMH Orthopedic & Spine Center at 417-777-2663.
June 17, 2020
Hospital 417-326-6000
Infocenter 417-328-6010, or 1-888-328-6010
1500 North Oakland, Bolivar, Missouri 65613
© 2021 Citizens Memorial Healthcare