Jamie Jones, RN named winner of the January 2023 CMH DAISY Award for Extraordinary Nurses
Jamie Jones, a registered nurse with Citizens Memorial Hospital's Intensive Care Unit, was named the January 2023 CMH DAISY Award for Extraordinary Nurses winner.
Jones earned her nursing degree in 2011 from St. John's School of Nursing and Southwest Baptist University, Springfield. She has been a registered nurse for 12 years and worked at various health care organizations before joining CMH in 2018 in the Intensive Care Unit.
She was nominated for the DAISY Award by a patient's family member. The nomination explained the extra time and care that Jones gave to their mother during her time in the ICU. Although their mother was having a difficult time speaking due to medical treatments, Jones always took the time to listen to what their mom "whispered."
The family continued to explain how when their mother was tired and wanted no further treatment, Jones took extra steps to ensure her mom's comfort. "She definitely made sure my mom was comfortable. Mom was thankful for that; she motioned for a hug from Jamie, and that she did. She truly cared. I will never forget how she cared for my mom. I will be forever grateful."
When asked how it feels to receive this award, Jones said she feels "very touched… [Their mother] really stuck with me." She shared how she felt a strong connection to their mother when she cared for her and how she positively affected her as a nurse.
Jones also spoke about the incredible ICU team and how her co-workers are more her family than her co-workers.
About the DAISY Award
DAISY is an acronym for Diseases Attacking the Immune System. The DAISY Award was established by the DAISY Foundation in memory of J. Patrick Barnes who died at 33 of Idiopathic Thrombocytopenia Purpura (ITP), an auto-immune disease.
The Barnes Family was awestruck by the clinical skills, caring and compassion of the nurses who cared for Barnes, so they created this international award to say thank you to nurses everywhere.
CMH implemented the DAISY Award program in January 2019 to recognize their own extraordinary nurses. Each month a CMH or Citizens Memorial Health Care Foundation nurse will be presented with this recognition.
If you or someone you know would like to submit a CMH DAISY Award nomination, go to: http://bit.ly/2vwPyGw. For more information about the DAISY Award and Foundation, visit www.daisyfoundation.org.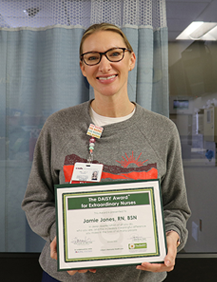 Jamie Jones, RN, CMH Intensive Care Unit