CMH names December 2022 CMH DAISY Award for Extraordinary Nurses winner
Darian Morris, a registered nurse with Citizens Memorial Hospital's Medical Surgical Unit, was named the December 2022 CMH DAISY Award for Extraordinary Nurses winner.
Morris earned her nursing degree in 2020 from Bolivar Technical College. After graduation, she began working for CMH in the Medical Surgical Unit.
She was nominated for the DAISY Award twice by a couple who appreciated her going above and beyond to provide compassionate care.
"She treated him like family and not just another patient. It was my husband's first hospital stay and surgery. She completely comforted him through every step," said the patient's wife in the nomination.
The nomination continued, "Darian Morris is definitely in the right occupation. This girl is way above and beyond just being a nurse, she is an awesome soul in her field and I only pray more people become like her."
When asked how it feels to receive this award Morris says it feels overwhelming and that, "I didn't see this coming at all."
Morris spoke about the staff in the CMH Medical Surgical Unit and how they work together, "All the people here are just amazing."
About the DAISY Award
DAISY is an acronym for Diseases Attacking the Immune System. The DAISY Award was established by the DAISY Foundation in memory of J. Patrick Barnes who died at 33 of Idiopathic Thrombocytopenia Purpura (ITP), an auto-immune disease.
The Barnes Family was awestruck by the clinical skills, caring and compassion of the nurses who cared for Barnes, so they created this international award to say thank you to nurses everywhere.
CMH implemented the DAISY Award program in January 2019 to recognize their own extraordinary nurses. Each month a CMH or Citizens Memorial Health Care Foundation nurse will be presented with this recognition.
If you or someone you know would like to submit a CMH DAISY Award nomination, go to: http://bit.ly/2vwPyGw. For more information about the DAISY Award and Foundation, visit www.daisyfoundation.org.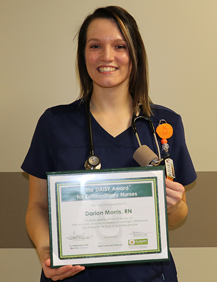 Darian Morris, RN, CMH Medical Surgical Unit