Show-Me MO Success podcast features CMH
Sarah Swearingin, director of nutritional services at Citizens Memorial Hospital, was a guest on the Show-Me MO Success podcast in January 2023. She helped lead CMH's effort to be the first business to receive the Recovery Friendly Workplace designation in Missouri.
"One of the biggest things we have been able to experience is to watch people grow," she said. "We are able to foster relationships with people. We are able to see them be reunited with their kiddos and see them be reunited with families. We have a couple that are going into college, and it's great to be a small part of their story. And with that, not only are we receiving benefits, but they are, too, because somebody believed in them."
Ann McCauley, rural opioids technical assistance project director, also is on the podcast. She explains more about the RFW initiative and the resources available to businesses.
"They offered a partnership, the ability to be able to have a group of people walk alongside of us," Swearingin said of the RFW initiative. "They are here supporting us in the initiative of helping people."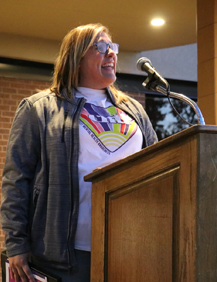 Sarah Swearingin, director of nutritional services at Citizens Memorial Hospital