Dian Hofmeister, RN named winner of February 2023 CMH DAISY Award for Extraordinary Nurses
Dian Hofmeister, a registered nurse with Citizens Memorial Hospital's Home Care Services, was named the February 2023 CMH DAISY Award for Extraordinary Nurses winner.
Hofmeister earned her nursing degree in 2005 from Pikes Peak State College, Colorado Springs, Colorado. She has been a registered nurse for 18 years and worked at various health care organizations before joining CMH Home Care Services in September 2022.
She was nominated for the DAISY Award by a patient's family member for the extraordinary and compassionate care Hofmeister showed their mother.
The nomination read, "She went above and beyond to handle an incident with our mother that was not her responsibility. She stepped up to the plate to handle what our mom needed and was more than happy to do it in the wee hours of the morning."
The family continued to praise Hofmeister for the compassionate care she showed their mother, even after she has passed away. "Her compassion for patients is so needed and very much appreciated," said the family.
When asked how it feels to receive this award, Hofmeister said "It's unexpected, and a great affirmation of the hard work that I do every day. It shows how much the patients appreciate the efforts [CMH Home Care] gives…and how much it means for them to have us in their lives at a time when they need us most."
Hofmeister also spoke about how she enjoys working at CMH Home Care, and how she hopes to finish out her nursing career there.
About the DAISY Award
DAISY is an acronym for Diseases Attacking the Immune System. The DAISY Award was established by the DAISY Foundation in memory of J. Patrick Barnes who died at 33 of Idiopathic Thrombocytopenia Purpura (ITP), an auto-immune disease.
The Barnes Family was awestruck by the clinical skills, caring and compassion of the nurses who cared for Barnes, so they created this international award to say thank you to nurses everywhere.
CMH implemented the DAISY Award program in January 2019 to recognize their own extraordinary nurses. Each month a CMH or Citizens Memorial Health Care Foundation nurse will be presented with this recognition.
If you or someone you know would like to submit a CMH DAISY Award nomination, go to: http://bit.ly/2vwPyGw. For more information about the DAISY Award and Foundation, visit www.daisyfoundation.org.
Photo: Dian Hofmeister, RN, with CMH Home Care Services, is the recipient of the February 2023 CMH DAISY Award.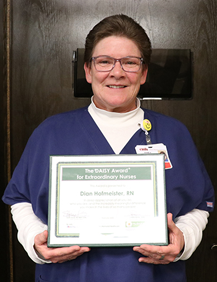 Dian Hofmeister, RN