CMH Auxiliary donates recliners, neck pillows
Patients at Citizens Memorial Hospital and Carrie J. Babb Cancer Center will benefit from recent donations by the CMH Auxiliary.
Thirty new recliners were installed in medical/surgical and telemetry patient rooms for a total cost of $36,000. CMH is renovating its patient rooms and according to Shantelle Posten, director of volunteer services at CMH, the recliners are a great addition to the rooms.
"The recliners will allow loved ones and friends of patients to be comfortable while visiting and add to the overall look of the newly renovated rooms," said Posten.
CMH Auxiliary also donated 50 neck pillows for Carrie J. Babb Cancer Center patients at a cost of $375. "Cancer patients have a great need for neck pillows, which help improve comfort and well-being during chemotherapy treatments. The donated pillows will be given to patients at the beginning of their treatments," said Posten.
The recliners and neck pillows were purchased and donated with money raised through CMH Auxiliary fundraisers and proceeds from the CMH Gift Garden gift shop.
"We would like to thank CMH employees and the Bolivar community for supporting us and helping to make our fundraisers successful," says Posten. "It allows our Auxiliary the opportunity to give back to CMH projects."
Are you interested in becoming a CMH volunteer? Contact Posten at 417-328-6432 or email shantelle.posten@citizensmemorial.com.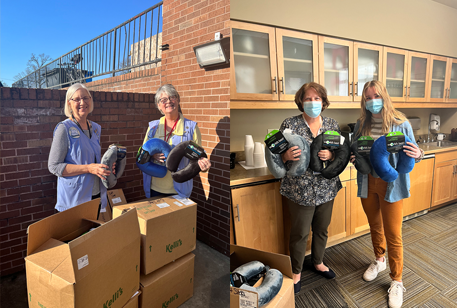 Recliner Donation Photo (Left-Right): Sondra Gentry-Wrights, second vice-president and legislative chair; Shantelle Posten, director of volunteer services; Loree Tedrow, corresponding secretary; Judy Wollard, Auxiliary and Gift Garden treasurer; Beverly Bonner. Tremain House representative; Henry Bonner, first vice president; Linda Zanatta, Gift Garden manager; Leonard Zanatta; Auxiliary president; Judy Johnson, ways and means chair; Judy Gould, health center representative; Lisa Lehman, bake sale chair; and Sue Taylor, Gift Garden buyer. Not pictured: Jane Emory, Douglas Medical Center representative; Emma Mincks, hospitality chair; Ray Runyon, Ash Grove representative; Judy Runyon, hospice representative; Lisette Shire, recording secretary; and Marilyn Bamber, cancer center representative.
Neck Pillow Donation Photo Left: Linda Zanatta and Sue Taylor.
Neck Pillow Donation Photo Right: Carol Morris and Aleena DeRossett.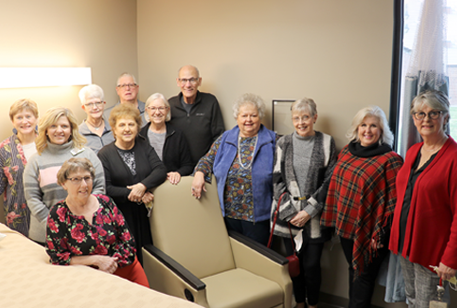 CMH volunteers with a donated recliner