Andrea Dixon, RN named February 2022 DAISY Award for Extraordinary Nurses winner
Andrea Dixon, a registered nurse with Citizens Memorial Hospital's Home Health Services, was named the February 2022 CMH DAISY Award for Extraordinary Nurses winner.
Dixon earned her nursing degree in 2021 from Bolivar Technical College, Bolivar, and has worked for CMH Home Health Services since graduation. She was nominated for the DAISY Award by a patient for helping them to get their life back through encouragement and exceptional care.
The nomination read, "When I first had my injury I felt like I wanted to die it hurt so badly. Your nurse and therapists have given me the strength I needed to get my life back. Andrea has encouraged me to keep pushing forward and to never give up. She told me I was doing everything perfect even when I felt I wasn't. I'm so happy that you have such caring staff. It's these small words of encouragement and compassion that can heal a person inside and out."
Dixon was surprised, but happy to receive the award. "I wasn't expecting it... It feels good to know that they appreciate what I do," said Dixon.
She also complimented her coworkers and manager for creating a great work atmosphere. "Everyone here is great. They are all team players and Valerie is a great manager," said Dixon. "Everyone helps each other out every day, and no one is ever in a bad mood when they come to work."
About the DAISY Award
DAISY is an acronym for Diseases Attacking the Immune System. The DAISY Award was established by the DAISY Foundation in memory of J. Patrick Barnes who died at 33 of Idiopathic Thrombocytopenia Purpura (ITP), an auto-immune disease.
The Barnes Family was awestruck by the clinical skills, caring and compassion of the nurses who cared for Barnes, so they created this international award
CMH implemented the DAISY Award program in January 2019 to recognize their own extraordinary nurses. Each month a CMH or Citizens Memorial Health Care Foundation nurse will be presented with this recognition.
If you or someone you know would like to submit a CMH DAISY Award nomination, go to: https://cmhbolivar.info/DAISY. For more information about the DAISY Award and Foundation, visit www.daisyfoundation.org
Photo: Andrea Dixon, RN, with CMH Home Health, is the recipient of the February 2022 CMH DAISY Award.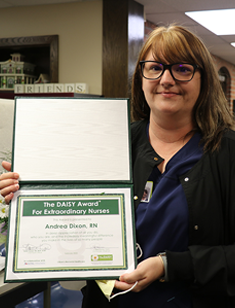 Andrea Dixon, RN - February 2022 DAISY Winner