Visiting vascular specialist to see patients at CMH
Citizens Memorial Hospital welcomes Grant R. Scott, M.D. to the medical staff.
He is a full-time vascular surgeon affiliated with CoxHealth and see patients as a visiting specialist to CMH every other Monday starting April 26. His Bolivar clinic, CoxHealth Vascular Surgery, is located inside Butterfield Park Specialty Clinics, 1245 N. Butterfield Road, Suite C2, Bolivar.
A graduate of the University of Missouri School of Medicine, he completed his residency in general surgery at Phoenix Integrated Surgical Residency in Arizona and his fellowship in vascular surgery at Charleston Area Medical Center in West Virginia. Dr. Scott is board certified in general surgery and vascular surgery by the American Board of Surgery.
At his Bolivar practice, Dr. Scott will diagnose and treat patients at CMH for vascular conditions such as peripheral artery disease and deep vein thrombosis and will use procedures such as non-cardiac and non-cranial diagnostic angiography/arteriography and venography, stent and stent graft placement, diagnostic biopsy on blood vessels and endovascular procedures, repair and reconstruction.
To schedule an appointment with Dr. Scott, call 417-328-6150.
Visiting Physicians
In addition to CMH's primary care and specialty physician clinics, CMH has several visiting specialists who offer care in audiology, nephrology, physical medicine, plastic surgery, podiatry and vascular surgery. These providers have medical practices at surrounding hospitals and clinics and see patients at Butterfield Park Professional Building and Butterfield Park Specialty Clinics in Bolivar.
For more information about visiting physician specialists at CMH, email infocenter@citizensmemorial.com.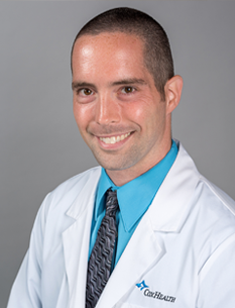 Grant R. Scott, M.D.