Veronica Mann, RN named August 2021 DAISY Award for Extraordinary Nurses winner
Veronica Mann, a registered nurse (RN) with Citizens Memorial Hospital Ear Nose and Throat Clinic in Bolivar, was named the August 2021 CMH DAISY Award for Extraordinary Nurses winner.
Mann earned her RN degree from Bolivar Technical College in 2020 and after graduating began working at the CMH ENT Clinic.
Mann was nominated for the DAISY Award by a patient for her ability to put patients at ease and care for them as if they were family.
The nomination read, "My son gets weekly allergy injections at CMH ENT. He's a tough cowboy, but needle pokes can bother even the strongest little arms. It's a great relief to have a nurse like Veronica who completely takes you in and cares for you as family."
"She has a natural talent for putting you at ease and makes our weekly visits something to look forward to. It's obvious that she cares greatly for her patients and enjoys her job as a nurse. We are thankful to have her," said the mother of the patient in the nomination.
When asked what it meant to receive this award Mann said, "It means everything because it's not about just being a nurse. I want everyone to feel like family when I take care of them."
"I want all my patients to know that their problems and illnesses I take on. I want them to feel comfortable and loved and not just a number," said Mann.
Mann also thanked her coworkers at CMH ENT for teaching her what she knows and for supporting her. "They are wonderful we are all like family. We care about each other's problems and support each other," said Mann.
About the DAISY Award
DAISY is an acronym for Diseases Attacking the Immune System. The DAISY Award was established by the DAISY Foundation in memory of J. Patrick Barnes who died at 33 of Idiopathic Thrombocytopenia Purpura (ITP), an auto-immune disease.
The Barnes Family was awestruck by the clinical skills, caring and compassion of the nurses who cared for Barnes, so they created this international award to say thank you to nurses everywhere.
CMH implemented the DAISY Award program in January 2019 to recognize their own extraordinary nurses. Each month a CMH or Citizens Memorial Health Care Foundation nurse will be presented with this recognition.
If you or someone you know would like to submit a CMH DAISY Award nomination, go to: http://bit.ly/2vwPyGw. For more information about the DAISY Award and Foundation, visit www.daisyfoundation.org
Photo: Veronica Mann, RN, with CMH ENT Clinic, is the recipient of the August 2021 CMH DAISY Award.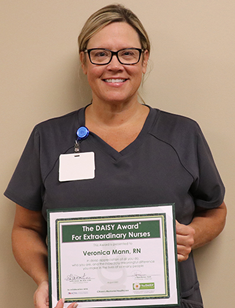 Veronica Mann, RN