FOR IMMEDIATE RELEASE
Sylvia Bartlett, RN named November 2021 DAISY Award for Extraordinary Nurses winner
Sylvia Bartlett, a registered nurse with Lake Stockton Healthcare Facility in Stockton, was named the November 2021 CMH DAISY Award for Extraordinary Nurses winner.
FOR THE MEDIA
Contacts:
Tamera Heitz-Peek
417-328-7245
theitz@citizensmemorial.com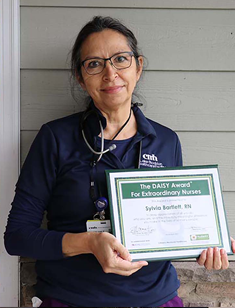 Bartlett earned her RN degree in 1999 from Central Methodist University in Fayette, Missouri. After graduating for nursing school she worked for serval other healthcare systems before joining Lake Stockton Healthcare Facility in 2018.
She was nominated for the DAISY Award by a resident for her attention to care, and ability to connect with the resident and their family members to ease their worries.
The resident explained in the nomination that Sylvia had cared for him numerous times due to his differing medical conditions. He described three different times where Bartlett's quick thinking, exceptional medical care and calming conversation positively impacted him including one occasion where Bartlett suspected he had sepsis and got him the immediate care he needed.
The nomination read, "Sylvia's demeanor carries a big caring smile while demonstrating the appropriate attitudes and actions to many different situations. Her kindness and ability to relate to us is very gratifying. …Sylvia's conversation is filled with calm, wisdom and joy. I am very grateful for all of her work."
When asked what it means to receive this award Bartlett said, "I'm thrilled, this is too much and it means so much to me to receive this award." She also commended her coworkers saying, "This is not just an award for myself, it's an award for our whole team."
Bartlett described the nurse's aides and medical technicians at the facility as her backbone. "They keep me posted and know I want to know everything that goes on with my residents. They really do make me successful at my job. I just don't do it all by myself, I have a lot of help." 
Bartlett continued, "I love the collaboration that we have and the connections we have made. We know that we are here for the patients and that nothing matters but the patient. We all know that's our goal, the patient," said Bartlett.
About the DAISY Award
DAISY is an acronym for Diseases Attacking the Immune System. The DAISY Award was established by the DAISY Foundation in memory of J. Patrick Barnes who died at 33 of Idiopathic Thrombocytopenia Purpura (ITP), an auto-immune disease.
The Barnes Family was awestruck by the clinical skills, caring and compassion of the nurses who cared for Barnes, so they created this international award to say thank you to nurses everywhere.
CMH implemented the DAISY Award program in January 2019 to recognize their own extraordinary nurses. Each month a CMH or Citizens Memorial Health Care Foundation nurse will be presented with this recognition.
If you or someone you know would like to submit a CMH DAISY Award nomination, go to: http://bit.ly/2vwPyGw. For more information about the DAISY Award and Foundation, visit www.daisyfoundation.org
Photo: Sylvia Bartlett, RN, with Lake Stockton Healthcare Facility, is the recipient of the November 2021 CMH DAISY Award.
December 31, 2021
Hospital 417-326-6000
Infocenter 417-328-6010, or 1-888-328-6010
1500 North Oakland, Bolivar, Missouri 65613
© 2023 Citizens Memorial Healthcare