Stephens Pharmacy provides safe way to dispose of unused medications
Stephens Pharmacy has partnered with Sharps Compliance, Inc., to combat prescription drug misuse by providing solutions to safely dispose of opioid painkillers and other unused medications.
The MedSafe® drug collection and disposal receptacle is located in the Stephens Pharmacy lobby for the safe and anonymous disposal of unused or expired medicines and controlled substances.
Stephens Pharmacy is owned and operated by Citizens Memorial Health Care Foundation and is located at 1100 S. Springfield Ave., Bolivar. It is open Monday-Friday, 8:30 a.m.–6 p.m. and Saturday, 8:30 a.m.–2 p.m.
"We receive many calls from customers asking how they can safely dispose of unused or expired medications," says Mariah Hollabough, PharmD, system pharmacy director at Citizens Memorial Hospital and CMH Foundation. "We are happy to offer this new service to the community and to provide a safe way to dispose of medications to keep them out of the wrong hands or entering our water supply."
The accepted medications that can be placed into the MedSafe are prescription controlled and non-controlled drugs, over-the-counter medications, and liquid medication bottles less than 4 oz. in a zip-lock bag.
The medications that are not accepted are illegal drugs, needles/syringes or sharp containers, medical devices or batteries, aerosol cans, inhalers, chemicals, Mercury-containing devices, radiopharmaceuticals, and liquid antineoplastic agents such as chemotherapy drugs and cytotoxic drugs.
The receptacle was securely installed Jan. 15, and can only be accessed and emptied by two pharmacy employees as required by the DEA guidelines.
For more information about the MedSafe drug collection and disposal receptacle, call Stephens Pharmacy at 417-326-2416.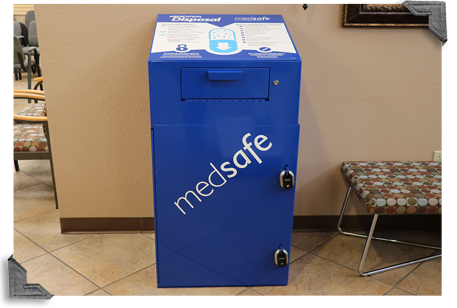 MedSafe drug collection and disposal receptacle