FOR IMMEDIATE RELEASE
Edie Mashburn, LPN named October 2021 DAISY Award for Extraordinary Nurses winner
Edie Mashburn, a licensed practical nurse with CMH Dallas County Family Medical Center and Walk-in Clinic in Buffalo, was named the October 2021 CMH DAISY Award for Extraordinary Nurses winner.
FOR THE MEDIA
Contacts:
Tamera Heitz-Peek
417-328-7245
theitz@citizensmemorial.com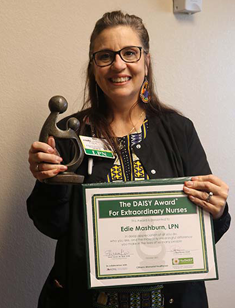 Mashburn earned her LPN license in 2013 from North Arkansas College, Harrison, Arkansas. After graduating from nursing school, she worked for two other healthcare organizations before joining CMH Dallas County Family Medical Center and Walk-In Clinic in 2018.
Mashburn was nominated for the DAISY Award by a patient for being calm and taking the time to share a special red bead for encouragement when the patient was struggling.
The nomination read, "Edie was calm and patient. She sat down next to me and told me to hold out my hand. She placed a red glass bead in my hand and held my hand within hers. She said to keep it in my pocket and use it to feel it and hold it, remembering that it represents a drop of Jesus's blood and to take strength and hope from that. To remember God's love and protection, and lean on him, in prayer."
The patient went on to say what a positive impact this had in her life. "It was so special and needed at that moment. Her kindness and compassion overwhelmed me and gave me a glimmer of hope. I treasure this bead now and keep it with me every day. Thank you, Edie."
When asked what it meant to receive this award, Mashburn said, "I'm thankful that I could be there and be used by God to help this patient. He gets the glory."
Mashburn shared how she came to use the red beads to encourage her patients. "After having my first child nine weeks early, I planned to never get pregnant again. But 10 years later, I became pregnant again and was so scared. One of my nurses put a red bead in my hand and shared the same encouragement with me that I did with this patient. I've never forgotten that nurse and the impact they had on my life. I have since incorporated the red bead as a part of my own nursing career."
Mashburn also spoke of how much she enjoys working at the Dallas County Family Medical Center and Walk-In Clinic. "This is the best nursing job I have had. I love it here, the people, the patients, all of it, it's like a family."
About the DAISY Award
DAISY is an acronym for Diseases Attacking the Immune System. The DAISY Award was established by the DAISY Foundation in memory of J. Patrick Barnes who died at 33 of Idiopathic Thrombocytopenia Purpura (ITP), an auto-immune disease.
The Barnes Family was awestruck by the clinical skills, caring and compassion of the nurses who cared for Barnes, so they created this international award to say thank you to nurses everywhere.
CMH implemented the DAISY Award program in January 2019 to recognize their own extraordinary nurses. Each month a CMH or Citizens Memorial Health Care Foundation nurse will be presented with this recognition.
If you or someone you know would like to submit a CMH DAISY Award nomination, go to: http://bit.ly/2vwPyGw. For more information about the DAISY Award and Foundation, visit www.daisyfoundation.org
Photo: Edie Mashburn, LPN, with CMH Dallas County Family Medical Center, is the recipient of the October 2021 CMH DAISY Award.
December 31, 2021
Hospital 417-326-6000
Infocenter 417-328-6010, or 1-888-328-6010
1500 North Oakland, Bolivar, Missouri 65613
© 2023 Citizens Memorial Healthcare