FOR IMMEDIATE RELEASE
CMH recognizes first TULIP Award winner
CMH mental health technician receives award
FOR THE MEDIA
Contacts:
Tamera Heitz-Peek
417-328-7245
theitz@citizensmemorial.com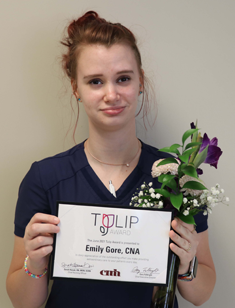 Emily Gore, a certified nursing assistant (CNA) and mental health technician with Citizens Memorial Hospital Parkview Geriatric Wellness in Bolivar, was named the first CMH TULIP Award winner for June 2021. She received the award Aug. 3.
The TULIP Award was established June 2021 by CMH and Citizens Memorial Health Care Foundation and is a recognition program for outstanding nursing assistants, medical assistants and patient care technicians who assist in direct patient care.
Gore earned her CNA license in 2016 through the nursing assistant program at Bolivar High School. She started her career soon after at Parkview Health Care Facility and transferred to Parkview Geriatric Wellness in 2018.
Gore was nominated for the TULIP Award by a coworker for going above and beyond to make patients feel respected. The nomination included a list of all the ways Gore advocates for her patients and goes beyond her patient care duties.
The nomination read, "Every day she makes sure the patients are clean and will spend time braiding their hair or washing their face… She will sit and hold hands with them and listen to their stories regardless of how many times they tell her."
When asked what it means to be the first to receive this award Gore was very humble and said she isn't much on being the center of attention but that receiving this award "feels great."
Gore's coworker says that Gore makes patients feel special. "I've seen patients' faces light up when she talks with them. She is a very special mental health technician," said Gore's coworker.
Gore says that her favorite part about working in Parkview Geriatric Wellness is "getting to care for the dementia patients." She explained that generally speaking people don't have enough patience to care for dementia patients, but that caring for them is her favorite part of her job.
Gore is very thankful for her team and all they do. "I never have to worry about people not being there to help…. They are always there to help," she says.
About the TULIP Award
Citizens Memorial Hospital/Citizens Memorial Health Care Foundation created the TULIP Award to recognize outstanding nursing and medical assistants and patient care technicians who assist in direct patient care.
TULIP stands for Thoughtful, Unforgettable, Lasting Impact on Patient Care. The award committee selects one honoree each month who exemplifies the following characteristics:
Goes above and beyond in providing exceptional care and unforgettable service to patients/residents.
Demonstrates exceptional skills in the delivery of compassionate patient/resident care.
Exemplifies the mission, vision and values of CMH/CMH Foundation.
Demonstrates a caring, thoughtful attitude.
Is an outstanding role model for other nursing assistants, medical assistants and patient care technicians.
The TULIP Award is given in conjunction with the DAISY Award for Extraordinary Nursing. If you or someone you know would like to submit a CMH TULIP Award, go to https://bit.ly/3rWCsie.
Photo: Emily Gore, CNA, with CMH Parkview Geriatric Wellness, is the recipient of the June 2021 CMH TULIP Award.
August 26, 2021
Hospital 417-326-6000
Infocenter 417-328-6010, or 1-888-328-6010
1500 North Oakland, Bolivar, Missouri 65613
© 2023 Citizens Memorial Healthcare