CMH recognized with 2021 MHA Aim for Excellence Award
Citizens Memorial Hospital was one of two Missouri health care organizations recognized with the 2021 Aim for Excellence Award by the Missouri Hospital Association.
The award recognizes progress toward the Triple Aim – better health, improved care and lower cost. The awards were announced at MHA's 99th annual convention.
CMH was recognized for its monoclonal antibody infusion program, which was central to its COVID-19 response and strategy to reduce the need for hospitalization and improve outcomes for patients with COVID-19. To date, CMH has provided monoclonal antibodies to 1,207 patients.
For more information, go to https://bit.ly/3BTxl5E
Photo: CMH Aim for Excellence Award writing team includes (left to right): DeAnna Hedger, Tamera Heitz-Peek, Beverly Derrickson, Mariah Hollabaugh, Dr. Ron Evans, Gary Fulbright and Michael Calhoun.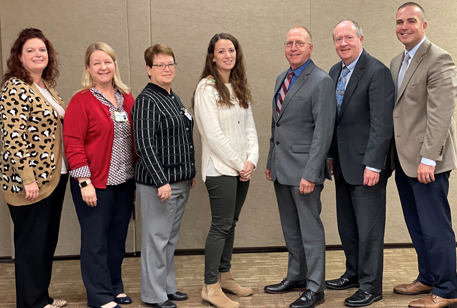 CMH Aim for Excellence Award writing team