FOR IMMEDIATE RELEASE
CMH named area leader in stroke readiness
Citizens Memorial Hospital announces that it has received national certification from DNV, an industry leader in hospital excellence and quality, as an Acute Stroke Ready Center, affirming the hospital's readiness to handle strokes and stroke related medical problems. CMH is also a designated Level III stroke center by the Missouri Department of Health and Senior Services.
FOR THE MEDIA
Contacts:
Tamera Heitz-Peek
417-328-7245
theitz@citizensmemorial.com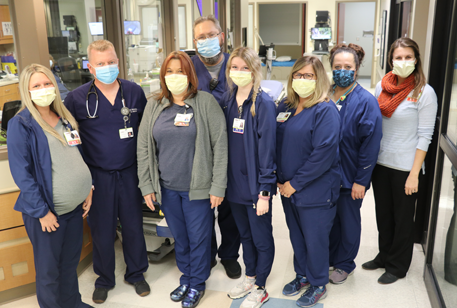 Citizens Memorial has partnered with CoxHealth to offer 24/7 telestroke coverage, which remotely connects CMH stroke patients to neurologists at Cox South, the region's only DNV-certified Comprehensive Stroke Center. The program allows treatment to begin within minutes of a patient's arrival at the hospital.
"We know that 'time is brain.' The faster a patient can get to a certified stroke center, the faster the patient will be diagnosed and treated," says Jenna Hicks, RN, director of population health at CMH. "Saving this valuable time is known to decrease complications of a stroke. This certification lets our community know that we have the resources and commitment to provide the best possible stroke care."
When patients present to Citizens Memorial with stroke-like symptoms recognized as "BEFAST" – balance, eyes, face, arm, speech, time – emergency room staff quickly perform advanced brain imaging and contact CoxHealth, where they are connected with a neurologist.
A tele-video visit takes place so the neurologist can evaluate the patient in real time. The neurological evaluation helps support timely treatment for optimal patient outcomes.
For eligible stroke patients, alteplase (tPA), the clot-busting medication, must be given within a certain treatment window after symptoms begin, so calling 911 immediately upon stroke symptom onset is critical.
Through CT angiography and CT perfusion, patients who are eligible for thrombectomy can be rapidly identified and transferred to the most appropriate stroke certified facility for higher levels of care.
"It's a combination of the right equipment, personnel and training to assess, identify and treat strokes quickly. Achieving certification validates the tremendous effort we have put into this program, ensuring the health and safety of our patients," Hicks says.
According to the American Stroke Association, stroke is a leading cause of death, killing nearly 130,000 people each year, and is a leading cause of serious, long-term adult disability. Because stroke or "brain attack" effects blood flow to the brain, rapid and effective treatment can save lives and provide the best chance of limiting the extent of long-term damage.
About CMH
Citizens Memorial Hospital is a fully-integrated health care system devoted to exceptional patient care provided by leading physicians and caring staff. Opened in 1982, CMH is located in Bolivar, Missouri, and serves Benton, Cedar, Dade, Dallas, Hickory, northern Greene, Polk and St. Clair counties. In addition to hospital services, CMH includes 34 primary care and specialty care physician clinics, rehabilitation services, and ambulance services in four counties. 
Citizens Memorial Health Care Foundation includes six long-term care facilities, one residential care facility, five independent living communities, home health, hospice, health transit services, home medical equipment stores, senior health center and a retail pharmacy.
For more information visit citizensmemorial.com or call 417-326-6000.
Photo (from left): Chelsea Turner, RN; Andrew Nicholes, D.O.; Denise Silva, RN; Brian Schnitzer, RN; Josie Davis, PCT; Michelle Neal, RN; Lisa Higgins, CNA; and Jenna Hicks; RN.
November 22, 2021
Hospital 417-326-6000
Infocenter 417-328-6010, or 1-888-328-6010
1500 North Oakland, Bolivar, Missouri 65613
© 2023 Citizens Memorial Healthcare