FOR IMMEDIATE RELEASE
CMH announces Three DAISY Award Winners
Three CMH registered nurses receive awards
FOR THE MEDIA
Contacts:
Tamera Heitz-Peek
417-328-7245
theitz@citizensmemorial.com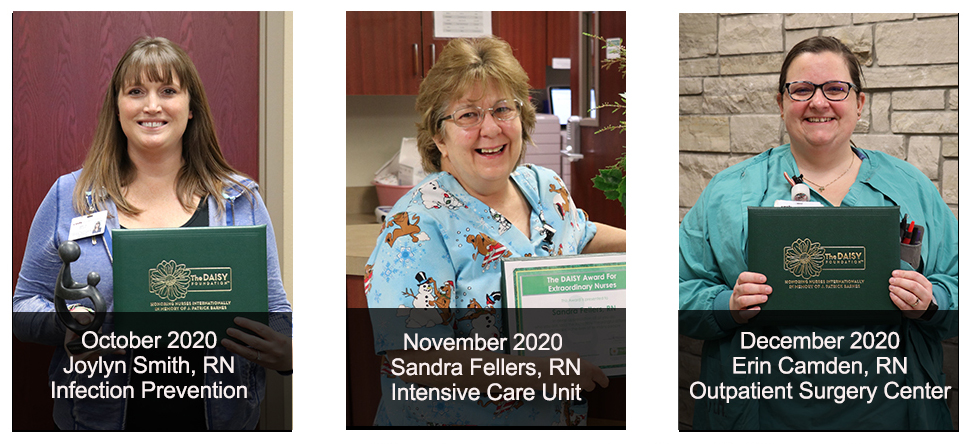 Three Citizens Memorial Hospital registered nurses were named DAISY Award winners. The October 2020 award winner is Joylyn Smith, RN, with CMH Infection Prevention and Quality Improvement Department. The November 2020 award winner is Sandra Fellers, RN, with CMH Intensive Care Unit. The December 2020 award winner is Erin Camden, RN, with CMH Outpatient Surgery Center.
The DAISY Award is a recognition program for extraordinary nurses.
Joylyn Smith, RN
Smith received a Bachelor of Science in nursing from St. John's School of Nursing and Southwest Baptist University, Springfield. She has been a registered nurse for 16 years working first in a high acuity urgent care center in Springfield before joining CMH in 2016 as the infection prevention coordinator.
Smith was nominated for the DAISY Award from a co-worker for being a vital resource to CMH and the community during the pandemic. The co-worker wrote: "She might not see patients in a clinical setting any longer but she cares about each and every one of them. She has worked to make sure every patient has the [COVID-19] testing they need and as fast as we can provide it. She has worked countless hours with staff, patients and the health department. She is CMH PRIDE."
Smith says she loves her job even though it looks very different this year compared to past years. "I love that every day is different, and that I continue to learn about different aspects of health care," she says.
Smith was honored to receive the award and was quick to commend nursing staff and teamwork at CMH. "I am so appreciative of all the hard work the bedside nurses do to take care of our patients. They are truly amazing," says Smith. "I've been so impressed while working with different groups of people at CMH. People work well together to quickly accomplish different objectives. It has made a world of difference during the stressful times with this pandemic."
Sandra Fellers, RN
Fellers started her nursing career 33 years ago first as a licensed practical nurse and then as a registered nurse. For the last five years, Fellers has worked in the CMH Intensive Care Unit and says it is the best team ever with how well they all work together as friends and family taking care of others friends and family.
"The ICU team is a well-oiled machine," she says.
It was a patient's family that nominated Fellers for the DAISY Award commending her for her sensitivity in taking care of their brother. Fellers had a personal connection to the patient having previously cared for him for more than 10 years at another health care facility. The patient's family found comfort in knowing that their brother had someone caring for him that he knew.
The family wrote: "I'm thankful to her and to know that he was not alone when [my brother] died."
Having known the patient, Fellers said, "It felt good to be able to be there for him."
Commenting on her three decade nursing career, Fellers says she got into nursing to help people. "I wanted to help them get well, and if I couldn't help them get well then take care of them and help them feel better. It's been a long, but good journey," Fellers says.
Erin Camden, RN
Camden received her Bachelor of Science in nursing from the University of Central Missouri, Warrensburg, and has been a nurse for the 17 years.
For nearly three years Camden has worked for CMH, working first in the Emergency Department before transferring to the Outpatient Surgical Center in July 2020.
Camden said the outpatient surgery team is, "a great team to work with. We work as a team and are always helping each other."
In the Outpatient Surgery Center, Camden works with both pre- and postoperative patients, and is where she cared for the patient that nominated her for the DAISY award.
During the patient's pre-operative appointment she felt depressed because the recent deaths of her husband and aunt as well as feeling anxious about her upcoming surgery.
The patient wrote: "I was very depressed and Erin showed concern about my feelings and listened as I explained my fears." The patient explained in her nomination that Camden made certain that she was OK and gave her information on several places where she could receive help.
The patient concluded by writing: "Thank you Erin I needed your friendly face and comfort."
Camden became a nurse because she really likes the work and enjoys getting to know her patients. According to Camden she was happy she was able to make a difference in her patient's life. "She is a wonderful lady... I'm glad I was able to help, it really means a lot."
If you or someone you know is struggling with mental health issues or depression, counseling is available. Call the National Suicide Prevention Lifeline at 1-800-273-8255.
About the DAISY Award
DAISY is an acronym for Diseases Attacking the Immune System. The DAISY Award was established by the DAISY Foundation in memory of J. Patrick Barnes who died at 33 of Idiopathic Thrombocytopenia Purpura (ITP), an auto-immune disease. The Barnes Family was awestruck by the clinical skills, caring and compassion of the nurses who cared for Barnes, so they created this international award to say thank you to nurses everywhere.   
CMH implemented the DAISY Awards in January 2019 to recognize their own extraordinary nurses. Each month a CMH or Citizens Memorial Health Care Foundation nurse is presented with this recognition.
If you or someone you know would like to submit a CMH DAISY Award nomination, go to: http://bit.ly/2vwPyGw. For more information about the DAISY Award and Foundation, visit www.daisyfoundation.org
February 24, 2021
Hospital 417-326-6000
Infocenter 417-328-6010, or 1-888-328-6010
1500 North Oakland, Bolivar, Missouri 65613
© 2023 Citizens Memorial Healthcare