CMH announces January 2021 DAISY Award winner
Pediatric LPN receives award
Tina Hedges, a licensed practical nurse (LPN) with Citizens Memorial Hospital Pediatric Clinic in Bolivar, was named the CMH DAISY Award winner for January 2021. She received the award Feb. 24. The DAISY Award is a recognition program for extraordinary nurses.
Hedges earned her LPN in 1998 from Manhattan Area Technical College, Kansas. She and her husband have lived in Missouri for 18 years; they have three daughters and two grandchildren.
Hedges has worked at several CMH clinics including five years at Bolivar Family Care Center, 15 years at Butterfield Park Medical Center and for the last five years at CMH Pediatric Clinic where she is pediatrician Dr. James Liesen's assigned nurse.
Dr. Liesen nominated Hedges for the DAISY Award writing that she "goes well beyond her job description to give the best care she can with a caring attitude that is infectious."
Dr. Liesen says that Hedges is well-known and loved by all parents in the clinic. "Her gentle touch and confidence places all the parents at ease and the families know they are in good hands when she is at the clinic," Dr. Liesen said.
Hedges was also recognized by Dr. Liesen for her knowledge and attitude when training new nurses saying that she is a calm nurturing figure for the junior nurses and is a great source of knowledge.
This is the second DAISY Award nomination for Hedges; she was nominated previously in 2020.
"It means the world to have been nominated for this award by Dr. Liesen," Hedges said. "We work well as a team because of his inspirational attitude that makes the flow of work easier."
Hedges also commended her coworkers saying she could not be the nurse she is today without her coworkers. "Everyone is a team player and you have to have a team when it comes to nursing," Hedges said.
The nursing profession is a family tradition for Hedges. She was inspired to become a nurse because of her grandmother who was not only a nurse but also her role model, and many other family members who are also nurses
One of the reasons Hedges enjoys nursing so much is the variety. "A career in nursing has endless possibilities; you can do anything you would like to do because the variety is never-ending."
About the DAISY Award
DAISY is an acronym for Diseases Attacking the Immune System. The DAISY Award was established by the DAISY Foundation in memory of J. Patrick Barnes who died at 33 of Idiopathic Thrombocytopenia Purpura (ITP), an auto-immune disease.
The Barnes Family was awestruck by the clinical skills, caring and compassion of the nurses who cared for Barnes, so they created this international award to say thank you to nurses everywhere.
CMH implemented the DAISY Awards in January 2019 to recognize their own extraordinary nurses. Each month a CMH or Citizens Memorial Health Care Foundation nurse will be presented with this recognition.
If you or someone you know would like to submit a CMH DAISY Award nomination, go to: http://bit.ly/2vwPyGw. For more information about the DAISY Award and Foundation, visit www.daisyfoundation.org
Photo: Tina Hedges, LPN, with CMH Pediatric Clinic, is the recipient of the January 2021 CMH DAISY Award.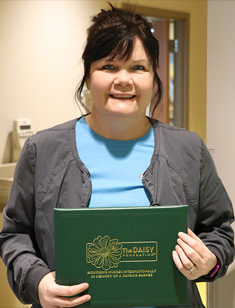 Tina Hedges, LPN, January 2021 DAISY Award winner