CMH among nation's top hospitals for treatment of heart attack patients
Citizens Memorial Hospital has received the American College of Cardiology's NCDR Chest Pain - MI (Myocardial Infraction) Registry Platinum Achievement Award for 2021. CMH is one of only 212 hospitals nationwide to receive the honor.
The award recognizes CMH's commitment and success in implementing a higher standard of care for heart attack patients and signifies that CMH has reached an aggressive goal of treating these patients to standard levels of care as outlined by the American College of Cardiology (ACC)/American Heart Association clinical guidelines and recommendations.
In recognition of this quality achievement, CMH is identified as a 4/4 Star Urgent Heart Attack Care Center within the ACC's Find Your Heart a Home patient navigator tool and listed in the 2021 "Best Hospitals" edition of US News & World Report.
To receive the Chest Pain - MI Registry Platinum Performance Achievement Award, CMH has demonstrated sustained achievement in the Chest Pain - MI Registry for two consecutive years (2019 and 2020) and performed with distinction in specific performance measures. Full participation in the registry engages hospitals in a robust quality improvement process using data to drive improvements in adherence to guideline recommendations and overall quality of care provided to heart attack patients.
"As a Platinum Performance Award recipient, CMH has established itself as a leader in setting the national standard for improving quality of care in patients with acute myocardial infarction," says Gary Fulbright, CEO/executive director of CMH and Citizens Memorial Health Care Foundation. "By meeting the award requirements set forth in the registry, CMH has demonstrated a commitment to providing reliable, comprehensive treatment for heart attack patients based on current clinical guideline recommendations."
The Centers for Disease Control estimates that almost 700,000 Americans suffer a heart attack each year. A heart attack occurs when a blood clot in a coronary artery partially or completely blocks blood flow to the heart muscle. Treatment guidelines include administering aspirin upon arrival and discharge, timely restoration of blood flow to the blocked artery, smoking cessation counseling and cardiac rehabilitation, among others.
"This recognition is a result of a lot of hard work and dedication from our entire heart team," says John F. Best, M.D., FACP, FACC, FSCAI, board certified interventional cardiologist and STEMI medical director at CMH. "From pre-hospital services and the emergency department to the cath lab, cardiology, ICU, care coordination and cardiac rehab, our team is consistently working together to review outcomes, quality measures and processes that will provide our patients with the very best heart care."
Chest Pain  ̶  MI Registry empowers health care provider teams to consistently treat heart attack patients according to the most current, science-based guidelines and establishes a national standard for understanding and improving the quality, safety and outcomes of care provided for patients with coronary artery disease, specifically high-risk heart attack patients.
Cardiac Care at CMH
The CMH Heart Institute Clinic and CMH Cath Lab includes: board certified cardiologists John F. Best, M.D., FACP, FACC, FSCAI, and Stephen Davis, M.D., FACC; board eligible cardiologist Haris Riaz, M.D.; and nurse practitioners, Kyla Inman, NP-C, and Jane Smith, NP-C. The physicians and cardiac team staff specialize in invasive/interventional cardiology, diagnostic angiography, peripheral angiography, coronary angioplasty and stenting, ileofemoral stenting, pacemaker implantation, echocardiography, inferior vena cava filter placement, pericardiocentesis, electrical cardioversion, electrocardiogram, echocardiology, stress testing and more.
The award winning cardiovascular services at CMH includes an accredited Level II STEMI program with 24/7 cardiology availability. STEMI, which stands for ST-segment elevation myocardial infarction, is a heart attack in which a blocked coronary artery prevents blood from getting to the heart muscle.
The CMH cardiac and pulmonary rehabilitation program is nationally recognized and is designed to help heart and lung patients recover quickly from a heart-related surgery, a heart attack or diagnosis of heart or pulmonary disease. It is certified by the American Association of Cardiovascular and Pulmonary Rehabilitation (AACVPR). The team of physicians, registered nurses, registered respiratory therapists and dietitians work with patients, their families and their physicians to structure a lifestyle plan tailored to meet their specific needs.
For more information about cardiovascular services at CMH, call the CMH Information Center at 417-328-6010 or go to www.citizensmemorial.com.
Photo (from left): Haris Riaz, M.D.; Rob Richardson, RN; John F. Best, M.D.; April Edgar, RN; Breanna Barnett, RN; Joel Thompson, RN; Jason Hopkins, RN; Tawni Reed, RN; and Tom Sanders, RN.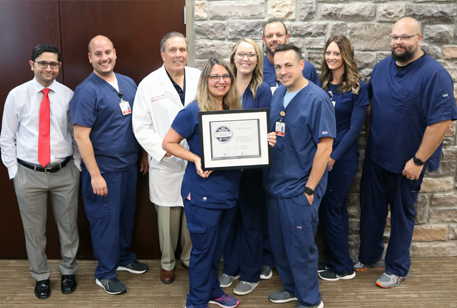 Doctors and nurses who provide cardiac care at CMH