FOR IMMEDIATE RELEASE
Ciara Wedge, RN named July 2021 DAISY Award for Extraordinary Nurses winner
Ciara Wedge, a registered nurse (RN) with Citizens Memorial Hospital Birth Place in Bolivar, was named the July 2021 CMH DAISY Award for Extraordinary Nurses winner.
FOR THE MEDIA
Contacts:
Tamera Heitz-Peek
417-328-7245
theitz@citizensmemorial.com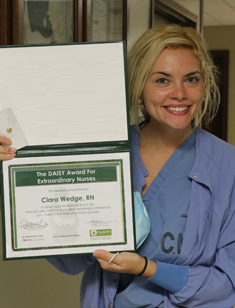 Wedge began her career at CMH as a patient care technician in the medical/surgical department while in nursing school. She earned her RN degree in 2021 from Southwest Baptist University, Springfield campus and soon after began working at the CMH Birth Place. 
Wedge was nominated for the DAISY Award by a patient for her kindness, encouragement and understanding that made her special life event even more memorable.
The nomination read, "It had been 12 years since I had my last baby, so I was a little nervous. Ciara was my nurse for the delivery. She was so kind, understanding and helpful. She was super encouraging during my actual delivery and made the whole day even more amazing. I am so happy that she was my nurse for such a special life event."
When asked what it meant to receive this award Wedge said, "It's such a special recognition because usually after patients leave the Birth Place they are focused on their new little family, so for them to take the time out of their busy schedules to nominate me, it's such an honor."
Wedge wanted to thank all the people she works with at CMH Birth Place and all the support and guidance they have given her. "I work with wonderful nurses and have such great leaders," said Wedge.
About the DAISY Award>
DAISY is an acronym for Diseases Attacking the Immune System. The DAISY Award was established by the DAISY Foundation in memory of J. Patrick Barnes who died at 33 of Idiopathic Thrombocytopenia Purpura (ITP), an auto-immune disease.
The Barnes Family was awestruck by the clinical skills, caring and compassion of the nurses who cared for Barnes, so they created this international award to say thank you to nurses everywhere.
CMH implemented the DAISY Award program in January 2019 to recognize their own extraordinary nurses. Each month a CMH or Citizens Memorial Health Care Foundation nurse will be presented with this recognition.
If you or someone you know would like to submit a CMH DAISY Award nomination, go to: http://bit.ly/2vwPyGw. For more information about the DAISY Award and Foundation, visit www.daisyfoundation.org
Photo: Ciara Wedge, RN, with CMH Birth Place, is the recipient of the July 2021 CMH DAISY Award.
September 17, 2021
Hospital 417-326-6000
Infocenter 417-328-6010, or 1-888-328-6010
1500 North Oakland, Bolivar, Missouri 65613
© 2023 Citizens Memorial Healthcare