FOR IMMEDIATE RELEASE
Cheryl Bowers, RN named September 2021 DAISY Award for Extraordinary Nurses winner
Cheryl Bowers, a registered nurse with Citizens Memorial Hospital Outpatient Surgery Center in Bolivar, was named the September 2021 CMH DAISY Award for Extraordinary Nurses winner.
FOR THE MEDIA
Contacts:
Tamera Heitz-Peek
417-328-7245
theitz@citizensmemorial.com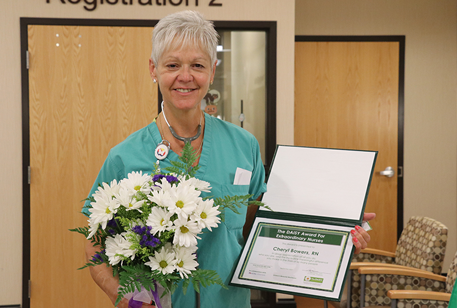 Bowers earned her RN degree in 1977 from Burge School of Nursing (Cox College), Springfield. After graduating nursing school she worked for two other hospitals before joining CMH Outpatient Surgery Center in 1992.
Bowers has been a nurse for 43 years. She has worked for CMH for 29 years and retired in December 2021.
Bowers was nominated for the DAISY Award by a patient for her kindness, encouragement and willingness to share her own cancer story with this patient.
The nomination read, "Cheryl conducted my pre-op appointment and was in ASC pre-op during my chemo port placement. During my visits, Cheryl was kind enough to share part of the story of her own cancer journey with me. During my port procedure, she checked in with me frequently, talked with me and personally kept my family updated on my progress during surgery."
Bowers says she doesn't always tell patients her personal cancer journey, but if she senses that the patient would benefit from knowing her story, she offers encouragement and answers any questions they have because she knows what they are going through.
Bowers also commended her team and CMH for always being devoted to the best patient care. "We all work together and help each other out all the time. Our supervisors hire wonderful nurses who are knowledgeable, eager to learn more, and eager to give good care to patients," said Bowers.
"I feel that CMH is very professional as well as progressive in the procedures and equipment we use. I appreciate that CMH stays on top of things and keeps us competitive with bigger hospitals," said Bowers. "I love working at CMH because we are small town people taking care of small town people, but we have all the features and equipment a larger hospital would have."
About the DAISY Award
DAISY is an acronym for Diseases Attacking the Immune System. The DAISY Award was established by the DAISY Foundation in memory of J. Patrick Barnes who died at 33 of Idiopathic Thrombocytopenia Purpura (ITP), an auto-immune disease.
The Barnes Family was awestruck by the clinical skills, caring and compassion of the nurses who cared for Barnes, so they created this international award to say thank you to nurses everywhere.
CMH implemented the DAISY Award program in January 2019 to recognize their own extraordinary nurses. Each month a CMH or Citizens Memorial Health Care Foundation nurse will be presented with this recognition.
If you or someone you know would like to submit a CMH DAISY Award nomination, go to: http://bit.ly/2vwPyGw. For more information about the DAISY Award and Foundation, visit www.daisyfoundation.org
Photo: Cheryl Bowers, RN, with CMH Outpatient Surgery Center, is the recipient of the September 2021 CMH DAISY Award.
December 31, 2021
Hospital 417-326-6000
Infocenter 417-328-6010, or 1-888-328-6010
1500 North Oakland, Bolivar, Missouri 65613
© 2023 Citizens Memorial Healthcare