FOR IMMEDIATE RELEASE
Public invited to meet new EDSMC physician, Dr. Ivan Arismendi Ortiz
Meet and greet reception schedule Oct. 15 at El Dorado Springs Medical Center
FOR THE MEDIA
Contacts:
Tamera Heitz-Peek
417-328-7245
theitz@citizensmemorial.com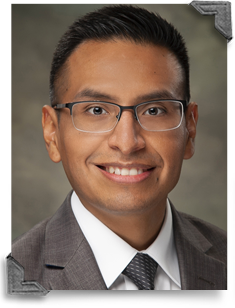 Citizens Memorial Hospital and El Dorado Springs Medical Center invite patients and community members to a meet and greet reception with Ivan Arismendi Ortiz, M.D., Oct. 15, 4-5 p.m., at El Dorado Springs Medical Center.
Dr. Ortiz recently joined the El Dorado Springs Medical Center medical staff and specializes in internal medicine. He provides primary care for patients 18 years of age and older and specializes in treating older patients with multiple health problems or complex conditions. He also provides medical management of multiple medical conditions including high blood pressure, diabetes, hyperlipidemia, asthma, COPD, chronic kidney disease, coronary artery disease, congestive heart failure, infectious diseases and anemia in coordination with specialists in the area.
Dr. Ortiz is board certified by the American Board of Internal Medicine and completed a general medicine internship and internal medicine residency at Mount Sinai Bronx-Lebanon Hospital Center, Bronx, New York.
During the reception, patients and guests will be able to ask questions and meet Dr. Ortiz and other clinic staff. Safety precautions will be observed including wearing face coverings, hand hygiene, physical distancing and other safety protocols.
El Dorado Springs Medical Center
is located at 322 E. Hospital Road, El Dorado Springs. Dr. Ortiz is accepting new patients. For more information about the meet and greet event or to make an appointment with Dr. Ortiz, call
417-876-2118
.
October 08, 2020
Hospital 417-326-6000
Infocenter 417-328-6010, or 1-888-328-6010
1500 North Oakland, Bolivar, Missouri 65613
© 2023 Citizens Memorial Healthcare