CMH therapy services to offer custom foot orthotics
Citizens Memorial Hospital Outpatient Therapy now offers custom foot orthotics.
Physical therapists are trained and certified in orthotic evaluation, fabrication and the custom fitting process. Orthotics are designed in an orthotic lab at CMH Outpatient Therapy located at the CMH Kerry and Synda Douglas Medical Center, 1155 W. Parkview St., Bolivar.
Orthotics help improve proper foot alignment and support. The physical therapists at CMH Outpatient Therapy are experts in musculoskeletal dysfunction and movement. During the evaluation, physical therapists work with patients to find the right orthotic for their symptoms. CMH uses the latest orthotic technology to ensure patients receive the best care and outcomes.
Custom orthotics may benefit patients suffering from Achilles tendinitis; arthritis; bunions; calluses or corns; chronic heel, knee and low back pain; high arches; gait abnormalities; plantar fasciitis; shin splints and more.
CMH offers physical, speech, and occupational therapy and pediatric therapy with clinic locations in Ash Grove, Bolivar, Buffalo, El Dorado Springs, Greenfield, Hermitage, Osceola, Pleasant Hope and Stockton. CMH accepts most major insurance plans including Medicare and Medicaid. To schedule an appointment or to learn more about custom orthotics, call CMH Outpatient Therapy at 417-328-6453.
PHOTO: Fred Lerche, PT, CPED, specializes in custom foot orthotics now available at CMH Outpatient Therapy.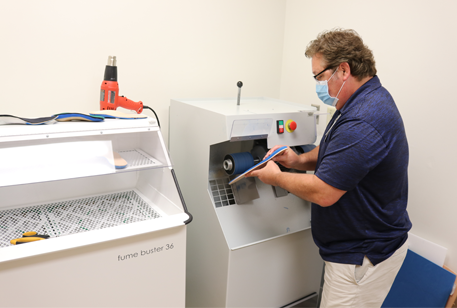 Machine for making custom foot orthotics