CMH receives reaccreditation as a prestigious Level II STEMI center
Citizens Memorial Hospital (CMH) and the CMH Heart Team have been reaccredited by the Missouri Department of Health and Senior Services as a Level II STEMI Center. CMH is the only STEMI Center, between Springfield and Kansas City, to receive the distinguished designation.
STEMI – which stands for ST-segment elevation myocardial infarction – is a heart attack in which a blocked coronary artery prevents blood from getting to the heart muscle. A STEMI heart attack typically requires angioplasty for treatment, a procedure calling for insertion of a balloon in a blocked coronary artery followed by placement of a stent to keep the artery open and restore blood flow to the heart muscle.
"Minimizing our patients' time to treatment is a crucial factor in improving survival rates and having a STEMI program is a key factor," said John Best, M.D., board certified interventional cardiologist at CMH. "This emergency care requires quick assessment, diagnosis and treatment that minimizes risk for preventable complications and even death."
According to Dr. Best, the national recommendation is that angioplasty is performed within 90 minutes or less from the time the patient presents to the Emergency Department with symptoms of a STEMI.
"CMH takes cardiac care excellence very seriously, so our average door-to-balloon time last year was less than half that recommendation," explains Joseph Moore, M.D., board certified interventional cardiologist at CMH. "We performed well above the 99th percentile nationally per the American College of Cardiology's Chest Pain-MI registry. Our team is extremely proud that our average door to balloon time is around 41 minutes. It's something we really try to focus on."
"Our cardiovascular services are available 24/7 and around-the-clock. It's a financial investment that the hospital believes is best for our patients and a tremendous amount of dedication on the part of hospital staff," Dr. Moore said.
Jenna Hicks, STEMI program manager at CMH says that the designation is an important accomplishment because "it empowers us to save lives and provide better access to rapid angioplasty treatment to residents."
"CMH is proud to offer these state-of-the-art medical services with a technically advanced staff, which includes two board-certified and fellowship-trained cardiologists," says Hicks.
Cardiac care has expanded dramatically at Citizens Memorial since the Cardiovascular Center and Cath Lab opened in 2004. Achievement of the STEMI Center accreditation was an intensive collaboration by hospital leaders, physicians, nurses and staff from CMH Pre-Hospital Services, Emergency Department, Cath Lab and Intensive Care Unit. CMH received accreditation in 2018 and must resubmit an application and undergo an on-site review every three years.
"Lives will be saved, outcomes improved and hundreds of patients will have more comfortable treatment with less time in the hospital thanks to our STEMI program," Hicks says. "We're offering the highest level of cardiac care, close to home."
For more information about cardiovascular services at CMH, call the CMH Information Center at 417-328-6010 or www.citizensmemorial.com.
Cardiac Care at CMH
The CMH Heart Institute Clinic and CMH Cath Lab include two board-certified cardiologists, John F. Best, M.D., FACP, FACC, FSCAI, and Joseph Moore, M.D., and nurse practitioners, Kyla Inman, NP-C and Jane Smith, NP-C. The physicians and cardiac team staff specialize in invasive/interventional cardiology, diagnostic angiography, coronary angioplasty and stenting, pacemaker implantation, echo cardiography, inferior vena cava filter placement, pericardiocentesis, electrical cardioversion, stress testing and more.
The CMH cardiac and pulmonary rehabilitation program is nationally recognized and designed to help heart and lung patients recover quickly from a heart-related surgery, a heart attack or diagnosis of heart or pulmonary disease. It is certified by the American Association of Cardiovascular and Pulmonary Rehabilitation (AACVPR). The team of physicians, registered nurses, registered respiratory therapists, and dietitians work with patients, their families and their physicians to structure a lifestyle plan tailored to meet their specific needs.
The cardio-pulmonary rehabilitation program is in a state-of-the-art rehabilitation facility within the walls of the hospital, but is also easily accessible from outside. CMH offers recumbent and stationary ellipticals and bicycles, recumbent cross trainers, treadmills, rowing machines, weight stations, stationary hand cycles and an indoor walking track.
For more information about cardiovascular services at CMH, call the CMH Information Center at 417-328-6010 or www.citizensmemorial.com.
PHOTO: Citizens Memorial Hospital Heart Team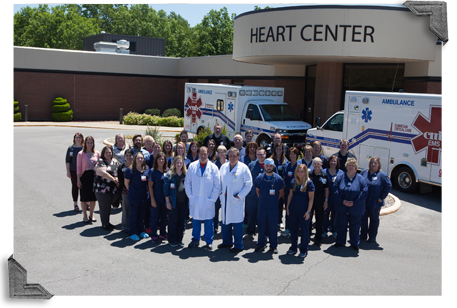 CMH Heart Center staff