FOR IMMEDIATE RELEASE
CMH partners with local business to provide pediatric cloth masks
Citizens Memorial Hospital recently partnered with The Bank of Missouri (formally Bank of Bolivar) and The Crafter's Den to supply more than 200 cloth masks to pediatric patients at CMH Pediatric Clinic and CMH Outpatient Pediatric Therapy.
FOR THE MEDIA
Contacts:
Tamera Heitz-Peek
417-328-7245
theitz@citizensmemorial.com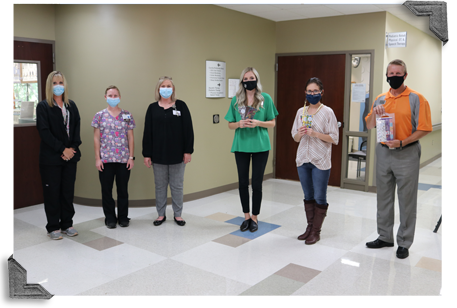 Each washable mask was designed to be child-friendly and is theirs to take home and use again. The Bank of Missouri donated $850 toward the project.
Pictured from left: Michelle Parson, ST; Cassie Stephans, PT; and Lynn Marbut of CMH Outpatient Pediatric Therapy; Anna Presley, The Bank of Missouri; Jami Kolskey, The Crafter's Den; and Russ Batten, The Bank of Missouri
August 07, 2020
Hospital 417-326-6000
Infocenter 417-328-6010, or 1-888-328-6010
1500 North Oakland, Bolivar, Missouri 65613
© 2021 Citizens Memorial Healthcare