FOR IMMEDIATE RELEASE
CMH launches new mobile app
Citizens Memorial Hospital and Citizens Memorial Health Care Foundation is launching the new patient-focused mobile app, CMH Care.
FOR THE MEDIA
Contacts:
Tamera Heitz-Peek
417-328-7245
theitz@citizensmemorial.com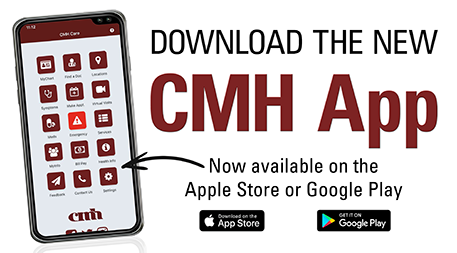 It conveniently connects you with Citizens Memorial services and information.
Features include:
Patient Portal – Access your electronic medical record patient portal.
Find a Doctor – Search for the perfect provider for you or your child.
Locations – Find a clinic, long-term care facility, pharmacy and more.
Symptoms – For help deciding what to do when you or someone you care for is sick or hurt.
Make an Appointment – Schedule an appointment.
Virtual Visit – Start a virtual visit with a medical provider.
Meds – Track and learn about your medications and allergies.
Services – Access CMH services
Bill Pay – Access your patient account securely and pay your bill.
Emergency – Quick connections to emergency care, poison center and 911.
Health Information – Access first aid instructions and parent advice.
Contact Us – Connect to CMH quickly.
CMH Care app is now available on the Apple Store or Google Play. Call 417-328-7245 for more information or go to https://bit.ly/CMHCareApp.
Disclaimer: The information provided with this application is not a substitute for professional medical advice, diagnosis or treatment; it is for informational purposes only. Talk with your healthcare provider about any questions you may have regarding a medical condition. If you think you or someone you care for may have a medical emergency, call the doctor or 911 immediately. Before using CMH Care all users should read and agree with the full disclaimer available in the application.
July 24, 2020
Hospital 417-326-6000
Infocenter 417-328-6010, or 1-888-328-6010
1500 North Oakland, Bolivar, Missouri 65613
© 2023 Citizens Memorial Healthcare