CMH Auxiliary donates vision screener for school health screenings
Citizens Memorial Hospital Auxiliary recently donated a Welch Allyn Spot Vision Screener to the CMH marketing department.
The equipment will assist CMH staff with school health screenings.
"We help more than 25 schools and school nurses screen around 10,000 students each year," says Wren Hall, director of community relations at CMH. "This includes screening students in preschool through high school, prekindergarten registration events, area Amish and Mennonite communities as well as students with special needs. CMH provides complimentary staff, equipment and assistance with the screenings such as vision, blood pressure, hearing, height and weight."
The Spot Vision Screener is a handheld vision screening device that meets American Academy of Pediatrics guidelines and helps users quickly and easily detects vision issues. The point and shoot technology screens both eyes in children and adults.
"Using traditional vision charts at school health screenings can average around five to six minutes per student," says Hall. "The Spot Vision Screener captures eye screening information within seconds, at a safe distance and should help students feel more comfortable and confident during vision screenings. This generous donation will greatly assist our mass screening events and provide a more accurate result."
In 2019 CMH volunteers worked 40,565 hours, which is a $1 million value to CMH. The Auxiliary also donated more than $66,500 in purchases for the organization last year.
For more information about joining the CMH Auxiliary, call Shantelle Posten, director of volunteer services at 417-328-6432.
PHOTO: (from left) Leslie Burnett, Henry Bonner, Marilyn Bamber, Wren Hall, Judy Gould, Beverly Bonner, Jane Emory, Leonard Zanatta, Judy Johnson, Linda Zanatta,  Sondra Gentry-Wright, Lisa Lehman, Shantelle Posten and Marinell Erven.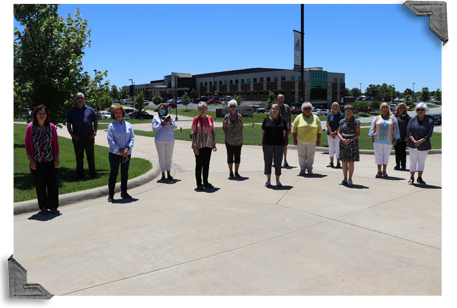 CMH Auxiliary members