CMH announces two DAISY Award winners
Two Citizens Memorial Hospital clinic nurses were named DAISY Award winners. Alexis Villanueva is the August 2020 recipient and is a registered nurse in the Medical/Surgical Unit at CMH. Pamela Erb is the September 2020 recipient and is a registered nurse with CMH Home Health.
The DAISY Award is an international recognition program for extraordinary nurses. 
Alexis Villanueva, RN
Villanueva began her career at CMH four years ago as a diet aid in nutritional services. She completed the licensed practical nursing and Associate of Nursing programs at Ozarks Technical Community College graduating with her RN in October 2019.
Villanueva has worked in the Medical/Surgical Unit for nine months and was nominated for the DAISY Award from a patient.
"I was admitted to CMH through the ER… and in horrible pain. Alexis was extremely professional and caring. Her knowledge and compassion saved my life. She was able to relieve my anxiety…," said the patient that nominated her. "Her professionalism stood out to me. She was direct and made you feel safe."
Villanueva says she was surprised to receive the August DAISY Award. "I just gave the patient the same care I would give anybody else, because I genuinely love people," Villanueva said. "It's really nice to be acknowledged because you see a lot of difficult situations, but then you realize that you make a difference." 
The patient that nominated Villanueva also was very thankful for the whole Medical/Surgical Unit team saying, "The entire staff that took care of me was amazing!" 
Villanueva shares the patient's opinion of her co-workers. "That's why I chose this department is because of the teamwork. It makes my job 110% easier just having a team that is that cohesive," she said. 
Pamela Erb, RN
Erb started her nursing career 24 years ago as an LPN and received her RN at Purdue University, Lafayette, Indiana, and her Bachelor of Science in nursing at Graceland University, Lamoni, Iowa.
She moved to southwest Missouri 20 years ago and worked in an area hospital and for a home health agency. For the last nine years Erb has worked for CMH Home Health and says it is so special because of the one-on-one time she gets to have with patients.
One of her patient's family members nominated Erb for the DAISY Award. Erb felt honored to be nominated. "It means more to me than anything else to be acknowledged," she says.
The patient's family was so appreciative of the care Erb provided to their grandmother. "Pam's visit helped perk my grandma right up. Even if it was just for a few hours during the visit, Pam was exactly what our family needed," the family wrote in the nomination.
Erb says the nursing field is a great career choice and has many options and opportunities. "Nursing is like a tree it has so many branches and things you can do. If you're going into health care that's the place to go… you will be appreciated."
About the DAISY Award 
DAISY is an acronym for Diseases Attacking the Immune System. The DAISY Award was established by the DAISY Foundation in memory of J. Patrick Barnes who died at 33 of Idiopathic Thrombocytopenia Purpura (ITP), an auto-immune disease. The Barnes Family was awestruck by the clinical skills, caring and compassion of the nurses who cared for Barnes, so they created this international award to say thank you to nurses everywhere. 
Citizens Memorial implemented the DAISY Awards in January 2019 to recognize their own extraordinary nurses. Each month a CMH or CMH Foundation nurse is presented with this recognition. 
If you or someone you know would like to submit a CMH DAISY Award nomination, go to: http://bit.ly/2vwPyGw. For more information about the DAISY Award and Foundation, visit www.daisyfoundation.org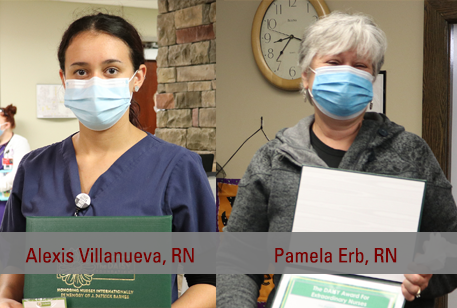 Alexix Villanueva, RN, and Pamela Erb, RN