CMH announces January 2020 DAISY Award winner
Home Health/Hospice RN receives award
Terri Scalley, a registered nurse (RN) with Citizens Memorial Home Care Services in Bolivar, was named the CMH DAISY Award winner for January 2020. Scalley received the award Feb. 4. The DAISY Award is a recognition program for extraordinary nurses.
Scalley graduated May 2019 with her RN degree from Bolivar Technical College, Bolivar, but previously worked as a licensed practical nurse (LPN) for more than 10 years. She started working for CMH at Community Springs Health Care Facility (CSHCF), El Dorado Springs, more than two years ago and transferred to CMH Home Care Services in May 2019. She continues to work PRN at CSHCF.
Scalley says that receiving the DAISY Award means everything to her, but she is still in shock. "I didn't expect this. I just did my job and took care of my patient like he was my own," says Scalley.
The Shelenhamer family nominated Scalley to receive the DAISY Award because of her work caring for their father.
The family wrote: "For some people, their job is more than a job, it is a calling. And, that is undoubtedly the case for Terri. She clearly followed her calling and passion by becoming a home health/hospice nurse. She approaches her patients and their families with the most gentle of touches, both physically and figuratively. She arrives every day with a big smile on her face that lifts everyone's spirits. Her excellent nursing skills instill confidence she is providing the very highest level of care… In our case, Terri took care of our father in his final weeks and treated him like a most cherished family member. She volunteered to work weekends without being asked after we realized she was such a soothing, welcome presence for [dad] when he was so ill."
The Shelenhamer family commended Scalley for volunteering to go through additional training to become a hospice certified nurse in order to ensure the patient's continuity of care to the very end.
"We can never adequately express what her professionalism, care and concern meant to [dad] and to all of us. She is an example of what all nurses should strive to be and sets a standard of care that is next to none. We will forever cherish her service and we count her as a true angel among us," wrote the family in the nomination letter.
"I treat my patients like they are my own," says Scalley. "I just want to ensure that they get the loving care that I would want someone to give my parents or my grandparents."
Scalley enjoys her work at CMH and loves all her co-workers at CMH Home Care Services. "I love everybody here. They are an amazing group and I have the best coworkers," says Scalley.
About the DAISY Award
DAISY is an acronym for Diseases Attacking the Immune System. The DAISY Award was established by the DAISY Foundation in memory of J. Patrick Barnes who died at 33 of Idiopathic Thrombocytopenia Purpura (ITP), an auto-immune disease. The Barnes Family was awestruck by the clinical skills, caring and compassion of the nurses who cared for Barnes, so they created this international award to say thank you to nurses everywhere.
CMH implemented the DAISY Awards in January 2019 to recognize their own extraordinary nurses. Each month a CMH or Citizens Memorial Health Care Foundation nurse will be presented with this recognition.
If you or someone you know would like to submit a CMH DAISY Award nomination, go to: http://bit.ly/2vwPyGw. For more information about the DAISY Award and Foundation, visit www.daisyfoundation.org
PHOTO: Terri Scalley, RN, works at CMH Home Care Services. She is the recipient of the January 2020 CMH DAISY Award.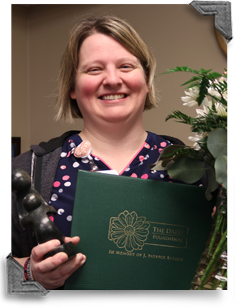 Terri Scalley, RN with DAISY Award