FOR IMMEDIATE RELEASE
CMH announces December 2019 DAISY Award winner
Emergency Department RN receives award
FOR THE MEDIA
Contacts:
Tamera Heitz-Peek
417-328-7245
theitz@citizensmemorial.com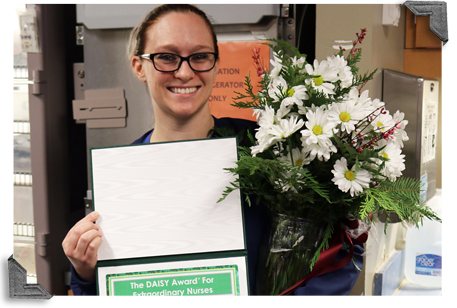 Nikki Church, a registered nurse with the Emergency Department at Citizens Memorial Hospital, Bolivar, was named the CMH DAISY Award winner for December 2019. Church received the award Dec. 30, 2019.
Church is from Lebanon, Missouri, has worked in the ER at CMH for eight months. She received her LPN in 2008 from Waynesville School of Practical Nursing, Waynesville, Missouri, and her RN in 2018 from Lincoln University, Jefferson City.
According to Church, the best part about being a nurse is the patient interaction. "It is very rewarding knowing you can make a difference in someone's life."
Church received two nominations for her work in the ER. "She is an excellent nurse that always looks out for her patients, staff and physicians," one person wrote in her nomination. "Her attention to detail directly resulted in this patient's medical care, saving his life."
Church is also well respected by her co-workers and supervisor.
"Nikki has cared for several critically ill patients. This is pretty normal for an ER nurse, but Nikki's cases have been different. …Nikki has gone above and beyond to advocate for her patients," Steffanie Haertling, RN, Director of ER, said. "She is an amazing team player and is always willing to lend an extra hand. Her patients love her and they frequently recognize her."
Church says the teamwork at CMH is the best. "My co-workers are my family. Even when it gets crazy, everyone works together and we are family."
About the DAISY Award
DAISY is an acronym for Diseases Attacking the Immune System. The DAISY Award was established by the DAISY Foundation in memory of J. Patrick Barnes who died at 33 of Idiopathic Thrombocytopenia Purpura (ITP), an auto-immune disease. The Barnes Family was awestruck by the clinical skills, caring and compassion of the nurses who cared for Barnes, so they created this international award to say thank you to nurses everywhere.
CMH implemented the DAISY Awards in January 2019 to recognize their own extraordinary nurses. Each month a CMH or Citizens Memorial Health Care Foundation nurse will be presented with this recognition.
If you or someone you know would like to submit a CMH DAISY Award nomination, go to: http://bit.ly/2vwPyGw. For more information about the DAISY Award and Foundation, visit www.daisyfoundation.org
Photo: Nikki Church, RN, works in the Emergency Department at Citizens Memorial Hospital. She is the recipient of the December 2019 CMH DAISY Award.
January 14, 2020
Hospital 417-326-6000
Infocenter 417-328-6010, or 1-888-328-6010
1500 North Oakland, Bolivar, Missouri 65613
© 2023 Citizens Memorial Healthcare