FOR IMMEDIATE RELEASE
CMH announces DAISY Award winners
Two CMH Foundation RNs receive awards
FOR THE MEDIA
Contacts:
Tamera Heitz-Peek
417-328-7245
theitz@citizensmemorial.com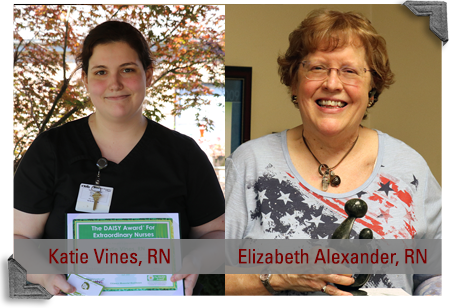 Two Citizens Memorial Health Care Foundation nurses were named DAISY Award winners. Katie Vines, RN, is a charge nurse at Parkview Health Care Facility and is the April 2020 award winner. Elizabeth Alexander, RN, is a palliative care nurse at CMH Home Care Services and is the May 2020 award winner.
The DAISY Award is an international recognition program for extraordinary nurses.
Katie Vines, RN
Vines earned her licensed practical nurse (LPN) and RN degrees from Bolivar Technical College, Bolivar. She started her nursing career at Citizens Memorial Health Care Facility in 2013 and has worked at Parkview Health Care Facility since 2014. In addition to being a charge nurse, Vines is also the wound care nurse at Parkview.
Vines says she was honored to have been nominated for the DAISY Award and didn't expect the recognition. "I love my residents and they really keep the job interesting," says Vines. "I love being able to take care of them every day."
A co-worker nominated Vines for the award and says that her heart is for Parkview residents. "Katie has been such a huge asset to the residents… and she goes above and beyond making sure their needs are met."
Vines says she loves the teamwork at Parkview Health Care Facility. "We have a great team and we all work well together," says Vines.
Elizabeth Alexander, RN
Alexander is a 40 year nursing veteran who started her career at CMH 13 years ago in the emergency department and the last three years as a palliative care nurse at CMH Home Care Services.
Although Alexander is not a hospice nurse, she is the on call nurse for the hospice team one weekend a month. That's where she met the family who nominated her for the DAISY Award.
The family was waiting for an order to go through from their doctor to place their father in hospice care. The order had not been received and Alexander was the on call nurse. Added to the dilemma, it was Memorial Day weekend.
"She made several calls to the hospital and doctor on call and got the order approved, came and assessed my father and got the hospital bed and medications all set up and delivered that same day," the family wrote in the nomination. "She was so sweet and went above and beyond to get things done. If we had to wait…our last days with our dad would have been very different."
Alexander says it meant so much to her to be nominated for the DAISY Award.
"I'm an old ER nurse and all I have ever known up until the last three years is saving lives. I've learned that sometimes the last step in life is more important than any of it and being a part of that – in these people's lives -- means so much to me," says Alexander.
Alexander loves her co-workers and her past nursing experiences cannot compare with CMH Home Care Services. "I've been a part of a lot of different groups in my 40 years of nursing and I have never worked with a group of nurses, nurse aids, social workers, pastoral care people or therapists like this before."
About the DAISY Award
DAISY is an acronym for Diseases Attacking the Immune System. The DAISY Award was established by the DAISY Foundation in memory of J. Patrick Barnes who died at 33 of Idiopathic Thrombocytopenia Purpura (ITP), an auto-immune disease. The Barnes Family was awestruck by the clinical skills, caring and compassion of the nurses who cared for Barnes, so they created this international award to say thank you to nurses everywhere.
Citizens Memorial implemented the DAISY Awards in January 2019 to recognize their own extraordinary nurses. Each month a CMH or CMH Foundation nurse is presented with this recognition.
If you or someone you know would like to submit a CMH DAISY Award nomination, go to: http://bit.ly/2vwPyGw. For more information about the DAISY Award and Foundation, visit www.daisyfoundation.org
Photo: Katie Vines, RN, with Parkview Health Care Facility, is the recipient of the April 2020 DAISY Award. Elizabeth Alexander, RN, with CMH Home Care Services, is the recipient of the May 2020 DAISY Award.
August 20, 2020
Hospital 417-326-6000
Infocenter 417-328-6010, or 1-888-328-6010
1500 North Oakland, Bolivar, Missouri 65613
© 2023 Citizens Memorial Healthcare