CMH announces DAISY Award winners
Two Hospice RNs receive awards
Chantel Carter, RN and Sharon Kennedy, RN, both registered nurses with Citizens Memorial Hospice, Bolivar, were named CMH DAISY Award winners for February and March 2020. The nurses received their awards March 25. The DAISY Award is a recognition program for extraordinary nurses.
Chantel Carter, RN
Carter earned her RN degree in 2009 from Bolivar Technical College. She started her nursing career out of high school working for CMH as a certified nursing assistant on the medical/surgical unit for a few years before working for board certified oncologist/hematologist Leo Shunyakov, M.D., at Central Care Cancer Center, Bolivar, for six years. She has worked with CMH Hospice since 2017.
Carter says she is appreciative of being nominated for the DAISY Award and says she was grateful to be there for her patient and the family. "Thank you very much for the nomination. I feel totally blessed," Carter says.
Four family members of the patient Carter cared for submitted nominations. One family member wrote: "Your guidance in how to care for our mother was an invaluable asset that helped us understand the process of her final days. The love and compassion that you displayed when caring for her was exactly what the family needed as we braced for the end of her long fight with cancer. I don't know how you do what you do, but we are eternally grateful to have had you in our lives."
Sharon Kennedy, RN
Kennedy earned her RN degree in 1999 from Southwest Baptist University. She has worked for CMH Hospice for 15 years.
Kennedy says she loves her job and is thankful that her patient's family had wanted to nominate her for the award. "For them to nominate me for this award, it shows that I'm doing what I need to be doing to take care of my patients," says Kennedy. "The family was very caring and I just love my job."
The patient's family thought Kennedy was wonderful. They wrote: "Sharon developed an instant rapport with [my wife] and with my family. In the most difficult time..., Sharon was always caring, clear and supportive. She instructed us on [my wife's] care and kept us informed about her condition and changes so that we could understand what was happening and how to comfort her best… Her care, her insight, her compassion and her professional knowledge were obvious to us. Thank you Sharon for your kindness and care above and beyond."
About the DAISY Award
DAISY is an acronym for Diseases Attacking the Immune System. The DAISY Award was established by the DAISY Foundation in memory of J. Patrick Barnes who died at 33 of Idiopathic Thrombocytopenia Purpura (ITP), an auto-immune disease. The Barnes Family was awestruck by the clinical skills, caring and compassion of the nurses who cared for Barnes, so they created this international award to say thank you to nurses everywhere.
CMH implemented the DAISY Awards in January 2019 to recognize their own extraordinary nurses. Each month a CMH or Citizens Memorial Health Care Foundation nurse will be presented with this recognition.
If you or someone you know would like to submit a CMH DAISY Award nomination, go to: http://bit.ly/2vwPyGw. For more information about the DAISY Award and Foundation, visit www.daisyfoundation.org
Photos: Chantel Carter, RN, CMH Hospice nurse, is the recipient of the February 2020 DAISY Award. Sharon Kennedy, RN, CMH Hospice nurse, is the recipient of the March 2020 DAISY Award.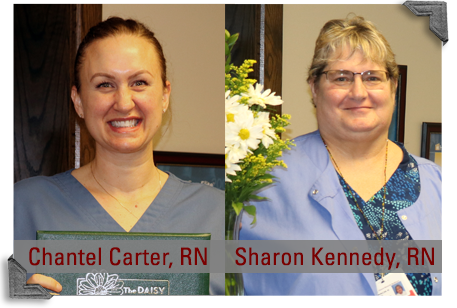 Chantel Carter, RN, and Sharon Kennedy, RN