FOR IMMEDIATE RELEASE
Bass Pro Shops founder Johnny Morris donates face masks to CMH
Citizens Memorial Hospital (CMH) received 4,000 FDA-approved ASTM Level 1 Procedure Face Masks as part of a nationwide donation from Bass Pro Shops founder Johnny Morris and Tracker Marine in Bolivar.
FOR THE MEDIA
Contacts:
Tamera Heitz-Peek
417-328-7245
theitz@citizensmemorial.com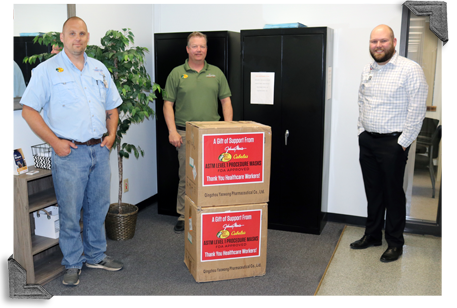 Morris personally donated 1 million masks to healthcare workers and first responders working on the front lines of the COVID-19 crisis with a Bass Pro Shops or Cabela's store, boat center, distribution center, or White River Marine Group manufacturing facility in their community.
"We are extremely grateful for the generous donation from Mr. Morris," says Gary Fulbright, CEO/executive director of CMH and Citizens Memorial Health Care Foundation. "CMH has implemented universal masking for all of its employees in response to CDC guidelines. This gift helps all of our staff continue to work in a safe environment and provide quality care to our patients."
For more information about making donations to CMH, contact Wren Hall, director of community relations, at 417-328-6318.
Photo (from left): AJ Lutz and Steve Skopec, Tracker Marine in Bolivar and Jarrett Finnell, CMH director of Materials Management.
May 05, 2020
Hospital 417-326-6000
Infocenter 417-328-6010, or 1-888-328-6010
1500 North Oakland, Bolivar, Missouri 65613
© 2023 Citizens Memorial Healthcare