FOR IMMEDIATE RELEASE
Whitehorne completes DIRFloortime certificate program
Citizens Memorial Hospital is pleased to share that Laura Whitehorne, pediatric occupational therapist, has become certified in DIRFloortime.
FOR THE MEDIA
Contacts:
Tamera Heitz-Peek
417-328-7245
theitz@citizensmemorial.com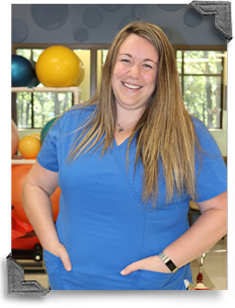 Whitehorne is the only occupational therapist in southwest Missouri certified as a basic DIRFloortime Practitioner.
DIR (Developmental, Individual-differences and Relationship-based model) is the leading model and practice to provide intervention for children with Autism and other mental health and developmental disabilities. Floortime is a specific technique to both follow the child's natural emotional interests and at the same time challenge the child toward greater and greater mastery of the social, emotional and intellectual capacities.
With young children, these playful interactions may occur on the floor, but go on to include conversations and interactions in other places. DIRFloortime emphasizes the critical role of parents and other family members because of the importance of their emotional relationships with the child. 
For more information about pediatric therapy services at CMH, call CMH Outpatient Pediatric Therapy at 417-328-6700 or visit www.citizensmemorial.com.
July 25, 2019
Hospital 417-328-6000
Infocenter 417-328-6010, or 1-888-328-6010
1500 North Oakland, Bolivar, Missouri 65613
© 2020 Citizens Memorial Healthcare