FOR IMMEDIATE RELEASE
Senior Health Center Program Receives 2019 Award For Excellence
The Senior Health Center Program at Citizens Memorial Hospital in Bolivar, Mo., was honored with the Award for Excellence from the Midwest Association of Healthcare Volunteer Resource Professionals.
FOR THE MEDIA
Contacts:
Tamera Heitz-Peek
417-328-7245
theitz@citizensmemorial.com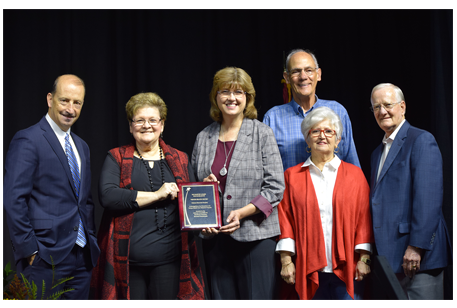 The award was presented on Friday, Nov. 8, during the Missouri Hospital Association's 97th Annual Convention & Trade Show in Osage Beach, Mo.
The Senior Health Center Program provides health and wellness opportunities in a social environment for area residents who are 55 years of age or older. Members can access the center on their own schedule for routine health monitoring, to use fitness equipment, and to attend educational or exercise classes. The services are free for participants.
The Award for Excellence acknowledges the value of volunteerism to individual lives and institutions, while promoting visibility and good will toward a health care facility, recognizing leadership development and encouraging service that exceeds customer expectations.
The Missouri Hospital Association is a not-for-profit association in Jefferson City that represents 141 Missouri hospitals. In addition to representation and advocacy on behalf of its membership, the association offers continuing education programs on current health care topics and seeks to educate the public about health care issues.
November 11, 2019
Hospital 417-328-6000
Infocenter 417-328-6010, or 1-888-328-6010
1500 North Oakland, Bolivar, Missouri 65613
© 2020 Citizens Memorial Healthcare