FOR IMMEDIATE RELEASE
Public invited to retirement reception for CMH CEO/ED Donald J. Babb
Citizens Memorial Hospital and Citizens Memorial Health Care Foundation Boards of Directors invite area residents to a retirement reception in honor of Donald J. Babb, CEO/Executive Director, Saturday, Jan. 4, 2020, 4-7 p.m.
FOR THE MEDIA
Contacts:
Tamera Heitz-Peek
417-328-7245
theitz@citizensmemorial.com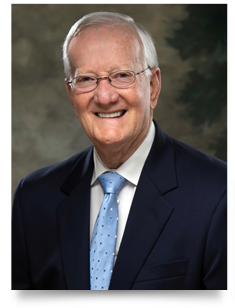 The come and go event will be held in CMH Community Rooms, 1500 N. Oakland Ave., Bolivar.
A short appreciation and recognition program will be held at 6 p.m. Guests should consider parking at the Kerry and Synda Douglas Medical Center across the street from the hospital. Shuttle service will be available. Hospital parking will be reserved for disabled guests and those with mobility difficulties.
Guests are invited to RSVP and to write a special note to Mr. Babb at http://bit.ly/Babb2020.
A separate retirement reception for CMH employees, volunteers and physicians will be held Jan. 4, 2020, 1-3 p.m. CMH employees, volunteers and physicians are invited to RSVP at http://bit.ly/DJBEPVJan2020.
For more information about the two retirement receptions for Mr. Babb, call 417-328-7245 or email theitz@citizensmemorial.com.
Photo: Donald J. Babb, CEO/Executive Director, Citizens Memorial Hospital and Citizens Memorial Health Care Foundation
December 16, 2019
Hospital 417-328-6000
Infocenter 417-328-6010, or 1-888-328-6010
1500 North Oakland, Bolivar, Missouri 65613
© 2020 Citizens Memorial Healthcare