FOR IMMEDIATE RELEASE
Humansville High School donated $1,700 to the Carrie J. Babb Cancer Center
Humansville High School donated $1,700 to the Carrie J. Babb Cancer Center (CJBCC) at CMH.
FOR THE MEDIA
Contacts:
Tamera Heitz-Peek
417-328-7245
theitz@citizensmemorial.com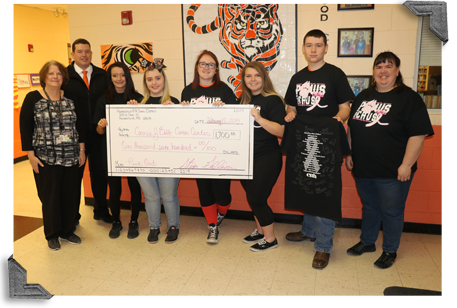 Funds were raised through the school's "Paws for a Cause" Pink Out event.
Pictured  from left: Carol Morris, RD, CJBCC; Steve Gallivan, principal; Lexie Brewer; Abby Stewart; Katelyn Hoskins; Jasmine Hawkins; Dodge Hogan; and Donna Root, student council sponsor.
February 17, 2019
Hospital 417-328-6000
Infocenter 417-328-6010, or 1-888-328-6010
1500 North Oakland, Bolivar, Missouri 65613
© 2020 Citizens Memorial Healthcare