FOR IMMEDIATE RELEASE
Heavener to medical staff
Citizens Memorial Hospital (CMH) announces the appointment of hospitalist Trace Heavener, D.O., MBA, to the CMH medical staff. Dr. Heavener will join the CMH Hospitalist staff July 1.
FOR THE MEDIA
Contacts:
Tamera Heitz-Peek
417-328-7245
theitz@citizensmemorial.com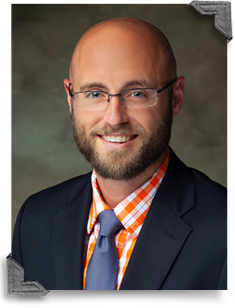 Dr. Heavener attended medical school at Oklahoma State University Center for Health Sciences College of Osteopathic Medicine, Tulsa, Oklahoma, and completed his residency in internal medicine at Texas A&M, Baylor Scott & White Medical Center, Temple, Texas. He holds a Master of Business Administration from Herriot-Watt University, Edinburgh, U.K.
CMH hospitalists provide expert care to individuals while they are in the hospital. For more information about Dr. Heavener or the CMH Hospitalist program, call 417-326-6000.
PHOTO: Trace Heavener, D.O., MBA, Hospitalist
June 17, 2019
Hospital 417-328-6000
Infocenter 417-328-6010, or 1-888-328-6010
1500 North Oakland, Bolivar, Missouri 65613
© 2020 Citizens Memorial Healthcare