FOR IMMEDIATE RELEASE
Colonial Springs resident donates money to Carrie J. Babb Cancer Center
Betty Owens, a resident at Colonial Springs Healthcare Center, a Citizens Memorial Health Care Foundation skilled nursing facility in Buffalo, recently donated more than $654 to the Carrie J. Babb Cancer Center (CJBCC) at CMH.
FOR THE MEDIA
Contacts:
Tamera Heitz-Peek
417-328-7245
theitz@citizensmemorial.com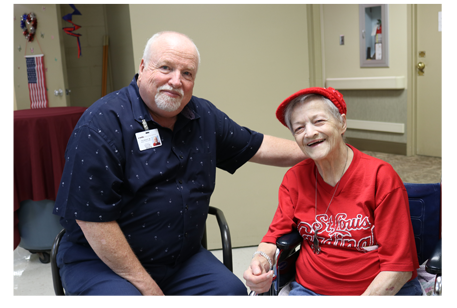 For the past three years, Owens has collected spare change and donations. She is a 55-year cancer survivor.
All donations to the CJBCC stay local and support non-reimbursable patient services offered through the CJBCC. For more information on how your gift can support cancer patients in your community, contact Robert McMillan, director of oncology support, at 417-328-7907.
Photo (left to right): Robert McMillan, LCSW and Betty Owens.
June 24, 2019
Hospital 417-328-6000
Infocenter 417-328-6010, or 1-888-328-6010
1500 North Oakland, Bolivar, Missouri 65613
© 2020 Citizens Memorial Healthcare