FOR IMMEDIATE RELEASE
CMH to offer free summer babysitting classes
Citizens Memorial Hospital (CMH) will offer free Safe Sitter classes for children in grades 6 – 8 this summer.
FOR THE MEDIA
Contacts:
Tamera Heitz-Peek
417-328-7245
theitz@citizensmemorial.com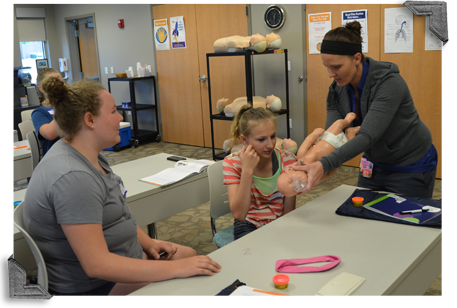 Classes will be offered June 4, July 9 and July 16. Class times are usually 9 a.m. to 3 p.m. and students choose one date to attend.
CMH is a partner with Safe Sitter, a national non-profit organization that provides programs to teach youth life and safety skills for when they are home alone, watching younger siblings, or babysitting.  Classes are taught by Safe Sitter certified instructors Wren Hall, CMH director of community relations, and Missy Volcko, RN, CMH Birth Place.
During the course students will learn:
Personal and on-line safety.
First Aid, choking rescue and CPR instruction that follows guidelines from the American Academy of Pediatrics and the American Heart Association.
Skills to handle medical, behavioral and household emergencies.
Developmentally appropriate curriculum and content.
Class sizes are limited and reservations are required. For more information contact Hall at 417-328-6318 or register online at https://conta.cc/2SgQTxY.
April 02, 2019
Hospital 417-328-6000
Infocenter 417-328-6010, or 1-888-328-6010
1500 North Oakland, Bolivar, Missouri 65613
© 2020 Citizens Memorial Healthcare